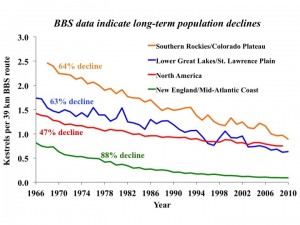 American Kestrels in Decline
The kestrel population in the United States has declined 50-60% since the 1960s, and the reasons are unknown!  In response, Sacajawea Audubon began installing kestrel nest boxes on private land around Gallatin Valley in 2012, and became a partner with the American Kestrel Partnership (AKP).  By installing and monitoring kestrel nest boxes in our area, Sacajawea Audubon hopes to help in the conservation of kestrels in two ways:
By providing quality nest sites in suitable habitat, we hope to increase the local kestrel population in our part of Southwest Montana.
Information gathered by our citizen scientists as they monitor the boxes will provide data for professional researchers and scientists as they work to unlock the mysteries of the population decline.
During the nesting season, volunteers check the boxes for use, recording clutch size, hatching success, fledgling success, and conflicts with starlings.  Nestlings are banded each year and, whenever possible, adults are also captured on the nest and banded.  All of our data is submitted to and shared through the American Kestrel Partnership.  Banding data goes directly to the USGS Bird Banding Laboratory.  We also participate in the American Kestrel Genoscape Project, collecting two body feathers from a chick in each nest which is then shipped to a laboratory at UCLA for genetic testing.  The genetic data from the feathers will be analyzed to understand the migratory connectivity of kestrel populations and how that connectivity changes with climate.
For more information or to volunteer to help, contact project leader Paulette Epple at pauletteepple@sacajaweaaudubon.org.
Helpful resources for building and monitoring a kestrel nest box -
Kestrel Box Handout - Installation-Maintenance-Monitoring
Kestrel Nest Box Plan - revised
Kestrel Nest Box Plan - original
Data Sheet and Monitoring Instructions