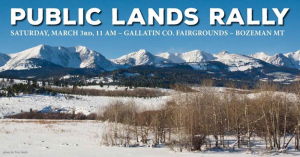 Our public lands need us now more than ever!
On Saturday March 3rd, let's show our elected officials that we won't give up the lands that shape our lives without a fight - we'll show up, be loud, and stand up against some of the latest attempts to take public lands out of public hands.
Where: Gallatin Country Fairgrounds
When: Saturday, March 3 from 11 AM - 12 PM
We need to see everyone at the rally because:
The administration in Washington just put out a budget that would force sell-offs of America's public lands.
Senator Jon Tester is working hard to pass the Yellowstone Gateway Protection Act that protects our streams and rivers.
National Monuments and critical wilderness study areas are at risk as special interests lobby to open them up to development that will have disastrous results
Speakers will include:
Lt. Governor Mike Cooney
Rachel Vandevoort, Governor's Office of Outdoor Recreation
Cyndy Andrus, Mayor of Bozeman
Becky Edwards, Montana Mountain Mamas
The future of our public lands in Gallatin County and the rest of Montana are at stake. We need you to let policymakers from Gallatin County to Helena to Washington know that we want to protect our public lands, and we won't let them be taken away from the people!