Participating in the GBBC is fun and easy!  To find out how, click HERE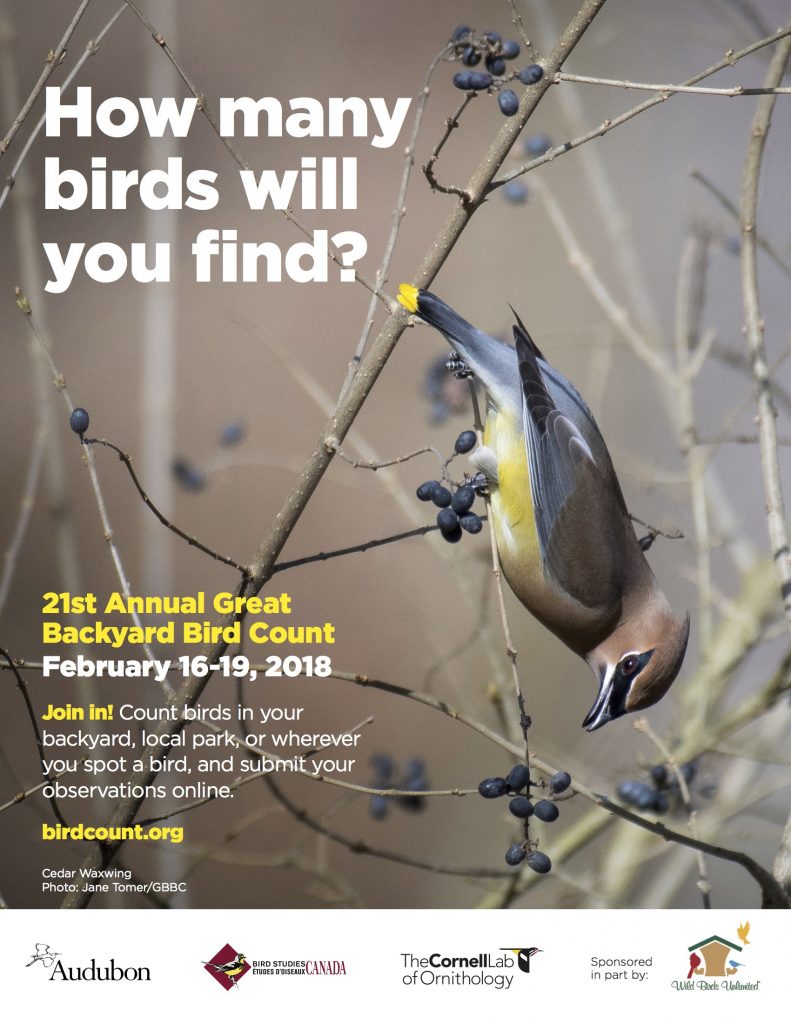 On The Calendar
March 1st & 3rd – Raptor ID Workshop and Field Trip
March 7th – SAS Book Group Discussion
March 8th – SAS Board Meeting
March 12th – SAS Monthly Program
March 17th – Central Park Pond Waterfowl Field Trip
March 24th – 25th – Freezeout Lake NWR Birding Tour
May 4th – 6th – Sage-Grouse "Lek" Birding Tour
May 25th – 28th – Red Rock Lake NWR Birding Tour
Support SAS
Support Sacajawea Audubon by:
-Joining Locally
-Sponsor a Birdathon Team
-Sponsor a Bluebird Nest Box
-Sign Up For A Class
-Or-
AMAZON SMILE
When you make a purchase through Amazon Smile, the Amazon Smile Foundation will make a donation to Sacajawea Audubon. To get started, cut and paste this link to your browser:
http://smile.amazon.com/ch/81-6012429
Recent Sightings
Feb. 19th – Snow Bunting, Amsterdam Rd.
Feb. 18th – Red-winged Blackbird, Willow Creek Yard
Feb. 17th – Gadwall, Central Park Pond
Feb. 16th – Lapland Longspur, Amsterdam Rd.
Feb. 15th – Sharp-tailed Grouse, Dry Creek Rd.
Feb. 14th – American Dipper, Axtell Anceny Rd.
Feb. 13th – Red Crossbill, Forest Creek
Feb. 12th – Prairie Falcon, East Bench Canal Rd.
SAS Board Minutes
Sacajawea Audubon Board Meeting – January 23, 2018 Lehrkind Mansion
Attendees: Lou Ann Harris, Keaton Johnson, Steve Hoffman, John Edwards, Diane Walker, Loreene Reid, Paulette Epple, Billy Burton, Chris Nixon, Janne Hayward, Kristin Walter & Anne Ready, Citizens Climate Lobby, Larry Berrin, Montana Audubon
Introductions
Climate Change presentation
Larry Berrin, discussion of Montana Audubon programs
MA is about 50% complete with draft Strategic Plan
MA will meet in March to finalize the strategic plan
Board approves minutes of December, 2017 board meeting
Janne Hayward treasurers report
Diane Walker, presents ideas on sponsoring a footrace as a fundraiser, possibly a race the morning of the annual raptor festival. She is still evaluating options. SAS members would volunteer to staff the fun run.
Review Proposed Program Plans for 2018
Proposed budget for 2018

Conservation tasks and budget reviewed
Education tasks and budget, reviewed
Birding trips being considered by Steve Hoffman

See list of potential birding trips provided by Steve

Board approves the 2018 budget
Review Annual Report to National Audubon
Discuss Nomination Committee activities
Citizen's Climate Lobby, vote at next board meeting
Links
Social Media

Get Twitter Buttons
Archives
Categories
Categories