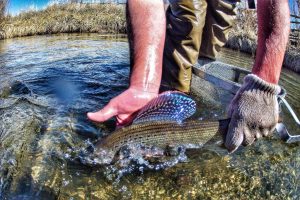 Join Sacajawea Audubon on January 8th, 2018 at Hope Lutheran Church in Bozeman for a special evening with Red Rock Lakes National Wildlife Refuge Manager Bill West. The program, "A Lost History of Arctic Grayling Found by Digitization", is a fascinating story set in a remote Montana valley, once filled by homesteads. It is now mostly public land or large ranches.
Arctic grayling are a beautiful fish once abundant in the upper Missouri River in Southwest Montana. Today grayling are relatively rare in Montana and many think of the Big Hole River when discussing recovery. However, the grayling of the Centennial Valley have a fascinating history that has been rediscovered in recent years. This is the southernmost population of grayling in North America. They are normally found in the Arctic. The Bozeman Fish Hatchery was established in 1892 and one of its early missions was to help "save" the fast declining "Montana grayling". The hatchery was run by the U.S. Fish Commission, a branch of the Department of Commerce. There was no US Forest Service then, no BLM, no National Park Service and no U.S Fish and Wildlife Service or National Wildlife Refuge System. The "Commission" came to the Centennial Valley in 1898 and harvested over 33 million eggs in eleven years in an attempt to save the fish. Grayling are still struggling, but we now have clues to how and why they declined and never recovered given significant efforts over the past 120 years.
Bill West is a wildlife professional employed by the U.S. Fish and Wildlife Service for the past 35 years to manage National Wildlife Refuges. Thirty years are on refuges in Montana. He is a MS graduate of the University of Missouri. His knowledge is land management for furred and feathered creatures such as Trumpeter swan and bison. Red Rock Lakes NWR introduced him to an amazing fish with a tough history, caused by human alterations to the landscape. Biologists/managers may be close to untangling issues that caused the decline. The Red Rock Lakes NWR home page is: https://www.fws.gov/refuge/red_rock_lakes/
Sacajawea Audubon meets every 2nd Monday of the month, September through May. Our meetings are held at Hope Lutheran Church (unless otherwise indicated), 2152 W. Graf (off of S. 19th). Come for the social beginning at 6:30 p.m. A short chapter meeting starts at 7 p.m. with the program following after. Our programs are free and open to the public.