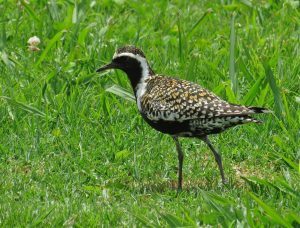 Sacajawea Audubon's February 12th program features a talk on the Pacific Golden-Plover, one of the world's longest distance migrant birds. They make remarkable nonstop transoceanic flights in spring and fall that cover thousands of miles. Oscar W. (Wally) Johnson, an affiliate research scientist in the Department of Ecology at Montana State University, is a plover expert having studied these birds for many years. He became fascinated with plovers in the '60s while conducting bird research at Enewetak Atoll in the Marshall Islands, and this fascination eventually led to his long-term research on the species, ongoing since 1979. Johnson's research has involved fieldwork throughout the Pacific (the birds' wintering grounds) and in Alaska (the breeding grounds). His talk will cover various features of plover ecology with an emphasis on new technology that enables the tracking of their amazing hemispheric travels.
Wally Johnson is a graduate of Washington State University (PhD Zoology), he taught for many years in the Minnesota State University system, and moved to Bozeman in 1990. Almost all his research has focused on birds, primarily their anatomy and ecology. He has published about 60 scientific papers (more than half involve plovers) along with two monographs (Pacific Golden-Plover and American Golden-Plover) for The Birds of North America series, and a recent popular book on Pacific Golden-Plovers. Johnson's work has been funded by the National Geographic Society and numerous state and federal agencies.
Sacajawea Audubon meets every 2nd Monday of the month, September through May. Our meetings are held at Hope Lutheran Church (unless otherwise indicated), 2152 W. Graf (off of S. 19th). Come for the social beginning at 6:30 p.m. A short chapter meeting starts at 7 p.m. with the program following after. Our programs are free and open to the public.