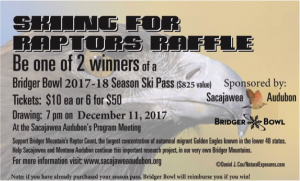 Sacajawea Audubon is selling raffle tickets to win one of 2 Bridger Bowl Season Passes for 2017-2018. Raffle tickets are $10 each or 6 for $50.   Even if you have already purchased a season pass, if you win, Bridger Bowl will reimburse you. If you don't ski, you can give your pass to a family member or friend.
The money raised will go to help fund our annual Bridger Raptor Survey, which just wrapped up it's 27th season. Raptors are counted each year between the end of August until early November on top of the Bridger Ridge. This long-term study is critical in the study of Golden Eagles and their steady decline in numbers.
Tickets are available at Wild Birds Unlimited off of N. 19th.
Drawing will be held Dec. 18th and the winners will be notified by either phone or email.
Please help us help the raptors!