Sacajawea Audubon Society wishes you the best birding in 2018
Come join the fun on one of our area's Christmas Bird Counts. The Christmas counts, started in 1900, are an opportunity for beginning and expert birders to get together and enjoy this holiday tradition.
For more information, contact the area count compilers. Please Contact the area compiler before the count, as this will give them the opportunity to plan and organize the count before the count day. Participation in all counts is free.
Bozeman     Saturday, December 16th
Compiler: John Parker (406) 586-5863    conundrumjp@gmail.com
Meet at Perkins Restaurant, 2505 West Main, in Bozeman, between 7-7:30 AM
West Yellowstone     Sunday, December 17th
Compiler: Brad Barth (406) 640-2628 barth.brad@gmail.com
Meet at the Grizzly and Wolf Discovery Center West Yellowstone at 8:30 AM
Livingston     Sunday, December 17th
Compiler: George Kelly (406) 220-0282 gjkingfisher@gmail.com
Meet at Pinky's, on Main Street, in Livingston between 7:30-8 AM
Yellowstone  Sunday, December 17th
Compiler: Woody Martyn (406) 224-1476  woodymartyn@hotmail.com
Meet at the Yellowstone Grill, in Gardiner, at 7:00 AM
Ennis  Wednesday, December 20th
Compiler: Robin Wolcott (406) 581-5418 pajaros@wewocotts.com email preferred
Meet at Yesterday's Café in the Ennis Pharmacy, by 7:30 AM or sooner for breakfast
Three Forks  Tuesday, December 26th
Compiler: Tom Forwood (406) 570-6432 tforwood@mt.gov email preferred
Meet at Wheat Montana on US 287 at exit 274 at 7:45 AM or by 7:15 for breakfast
Ruby Valley  Thursday, January 4th
Compiler: Tom Forwood (406) 570-6432 tforwood@mt.gov  email preferred
Meet at Fritt's Dream Bean Cafe, in Sheridan, at 7:45-8:15 AM
Please let Tom know if you plan to eat breakfast at the cafe.
Note: cross country skiers are needed for some sections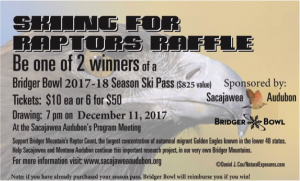 Sacajawea Audubon is selling raffle tickets to win one of 2 Bridger Bowl Season Passes for 2017-2018. Raffle tickets are $10 each or 6 for $50.   Even if you have already purchased a season pass, if you win, Bridger Bowl will reimburse you. If you don't ski, you can give your pass to a family member or friend.
The money raised will go to help fund our annual Bridger Raptor Survey, which just wrapped up it's 27th season. Raptors are counted each year between the end of August until early November on top of the Bridger Ridge. This long-term study is critical in the study of Golden Eagles and their steady decline in numbers.
Tickets are available at Wild Birds Unlimited off of N. 19th.
Drawing will be held Dec. 18th and the winners will be notified by either phone or email.
Please help us help the raptors!