NOTE: We will NOT be meeting at Hope Lutheran.
Owls are arguably the most widely recognized group of animals in the world. They occur on all continents except Antarctica and have populated the most remote groups of islands in the world (i.e. Hawaii). Owl lore, myth, and stories have been verbally passed along in many native cultures throughout the world.
Join Sacajawea Audubon on December 11th at the Ellen Theatre in Bozeman for a special evening with owl expert, Denver Holt. "The Owls of Montana" will focus on owl species that occur in Montana only, or the United States and Canada. He will discuss the differences between the two owl families and also cover a general overview of owl identification, natural history, breeding and non-breeding biology, evolutionary adaptations, habitat affinities, and conservation.
Owls are difficult to find, however, if you learn a little about the breeding seasons, and owl vocalizations you will be able to find owls. Because voice is the major means of communication among owls, we will review the primary songs. Based upon Denver Holt's 35 years of surveying and researching owls in Montana and elsewhere, we will outline survey techniques. These techniques can be used to increase your chances of finding owls for scientific reasons, or just enjoyment.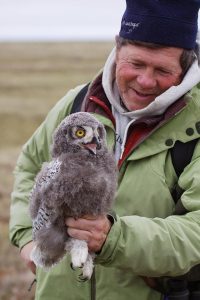 Denver Holt is a wildlife researcher and graduate of the University of Montana. He is founder and president of the Owl Research Institute and the Ninepipes Wildlife Research Center, a nonprofit organization located in Charlo, Montana. As a dedicated field researcher, Holt believes that long-term field studies are the primary means to understanding trends in wildlife populations. Since 1978, Holt's research focus has been owls and their ecology. He has published about 100 papers and technical documents, including four species accounts for the Birds of North America project. His research on Snowy Owls has been showcased on documentaries for National Geographic Explorer, NHK Natural History Unit of Japan, and the Norwegian Broadcasting Company Natural History Unit, and the focus of the British Broadcasting Company's (BBC) documentary series called Frozen Earth.
To learn more about Holt and his efforts in wildlife research, education, and conservation, visit www.owlinstitute.org.
Please join SAS for a social at 6:30. The program will begin at 7 p.m. A suggested donation of $5 will help Sacajawea Audubon offset the cost of renting the Ellen.