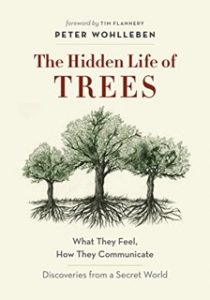 The Hidden Life of Trees: What They Feel, How They Communicate, Discoveries from a Secret World by Peter Wohlleben asks us to consider the life and relationships within healthy forests. Wohlleben worked for the forestry commission in Germany for 20 yearsand now "runs an environmentally friendly woodland where he works for the return of primeval forests." He is described as following in the tradition of "great naturalist story-tellers."
The discussion will be on December 6, 2017, at the Hope Lutheran Church from 5:30-6:45pm. If you are new to the book group please email Adele Pittendrigh and let her know. (adele.pittendrigh@gmail.com)
Join Sacajawea Audubon for an enlightening presentation Nov. 13th on the problem of invasive lodgepole pine in the Southern Hemisphere by Bruce Maxwell.
Bruce is a professor in the Department of Land Resources and Environmental Sciences in the MSU College of Agriculture and is lead author of the agriculture chapter of the Montana Climate Assessment, published in September.
Maxwell specializes in applied plant ecology, including agroecology, invasive plant ecology and weed biology. He has researched the design and development of sustainable production systems and adaptive management strategies for annual and perennial weeds in crop and natural ecosystems.
Maxwell is currently studying precision agriculture technologies to improve profitability and sustainability of small grain production in the northern Great Plains. He has also studied crop-weed competition, herbicide resistance evolution and economic thresholds of weeds and invasive species, as well as land use change and the consequences of fire as a disturbance in plant communities.
Come for our social at 6:30 p.m. A short business meeting begins at 7 p.m. with the program following after. Sacajawea Audubon programs are free and open to the public. We meet the 2nd Monday of each month, September through May, at Hope Lutheran Church. Join us and learn something new about our natural world.
Hawk counters Bret Davis and Adam Bradley were recently featured in a story on Yellowstone Public Radio.  Click HERE  to listen to the story.