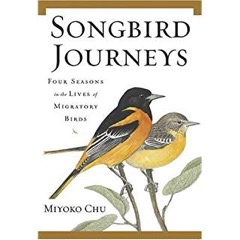 Songbird Journeys, Miyoko Chu
The book delves into the Four Seasons In the Lives of Migratory Birds ) "Until recently, little was known about the lives of songbirds during their travels from autumn until spring. Now scientists have documented mass migrations over the Gulf of Mexico, identified the voices of migrants in the night sky, and showed how songbirds navigate using stars, polarized light, and magnetic fields. Miyoko Chu explores the intricacies underlying the ebb and flow of migration, the cycle of seasons, and the interconnectedness between distant places. Songbird Journeys pays homage to the wonder and beauty of songbirds while revealing the remarkable lives of migratory birds and the scientific quest to answer age-old questions about where songbirds go, how they get there, and what they do in the far-flung places they inhabit throughout the year."
The discussion of Songbird Journeys will be on October 18th, 5:30-6:45PM, in the Hope Lutheran Church.
Please send email to Adele Pittendrigh if you are participating for the first time.adele.pittendrigh@gmail.com. Happy Reading!