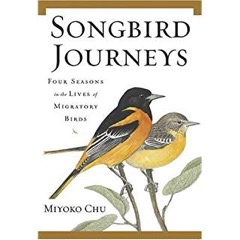 Book Group Seeks New Members; Third Year Opens with Songbird Journeys
Songbird Journeys: Four Seasons In the Lives of Migratory Birds by Miyoko Chu explores lives of songbirds and their migrations. "Songbird Journeys pays homage to the wonder and beauty of songbirds while revealing the remarkable lives of migratory birds and the scientific quest to answer age-old questions about where songbirds go...."
The discussion of Songbird Journeys will be on October 18th, 5:30-6:45PM, in the comfortable youth room of the Hope Lutheran Church. The book group seeks new members, and all SAS members are warmly invited to participate. Discussions are informal, lively and fun.
Please send email to Adele Pittendrigh if you are participating for the first time. (adele.pittendrigh@gmail.com)
Happy Reading!