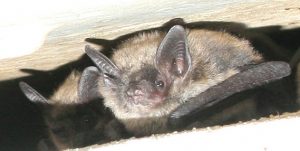 Come and discover the fascinating and mysterious world of bats. This program will explore the importance of bats to our ecosystem and agriculture, bat biology, threats to bat populations, current research, rabies, myths, echolocation, and more! You'll also learn what you can do to help promote bat conservation in your own back yard.
Matt has been leading bat walks and bat education programs for the past six years as a volunteer for the Montana Wild Education Center (FWP) in Helena. As a passionate bat advocate, Matt also volunteers to help humanely resolve bat/human conflicts in homes. He has a B.S. in Wildlife Biology from the University of Montana and currently works for the Montana Land Reliance.
Sacajawea Audubon meets every 2nd Monday of the month, September through May. Our meetings are held at Hope Lutheran Church, 2152 W. Graf (off of S. 19th). Come for the social, beginning at 6:30 p.m. A short chapter meeting starts at 7 p.m. with the program following after. Our programs are free and open to the public.