Headwaters-Three Forks
Saturday, September 2, 2017
Trip Leader: Robin Wolcott          406-581-5418         pajaros@wewolcotts.com
Meet at 7:45 am at the Museum of the Rockies. Carpool and leave at 8 am.
Early September is the peak of fall migration with an amazing diversity of birds passing through Montana. This field trip will take advantage of the many birding opportunities in the Headwaters State Park and Three Forks area. The trip will last until early afternoon but let's be prepared for anything. Bring a lunch. Bring a scope if you have one. Bring your enthusiasm and your flexibility.
Participants limited to 14  
To reserve a spot on the trip or for more information please contact the trip leader.
---
Harrison Reservoir
Saturday, September 16, 2017
Trip Leader: John Parker  406-586-5863         conundrumjp@gmail.com
Meet at 7:45 am at the Museum of the Rockies. Carpool and leave at 8 am.
September is the peak of the fall migration, with an amazing diversity of birds passing through southwestern Montana. The emphasis of this trip will be on waterfowl and shorebirds, while exploring all the shorelines and other habitats around Harrison Reservoir. This trip will last until mid-afternoon, so bring a lunch and anything else you may need for a day in the field. Scopes will be especially useful on this trip, as many of the birds will be distant.
Participants limited to 15  
To reserve a spot on the trip or for more information please contact the trip leader.
It's Time to "Knock out Burdock!"
Every summer Sacajawea Audubon volunteers rally to attack burdock and eradicate it from some of our favorite trails. IT'S WORKING! Our efforts are paying off! So few plants remain in the East Gallatin Recreation Area and the Story Mill Community Park that work crews won't be needed in those areas this year.
Burdock is a nasty introduced plant with Velcro-like seed heads that entrap songbirds, slowly causing their deaths.  You may know burdock from brushing against it and getting the burs caught in your hair, your clothes, or your dog's fur. If we don't let the plant go to seed, it will die out.
WE NEED YOUR HELP!
DON'T LET THIS HAPPEN!
Join our Audubon led work groups to clip seed heads and cut down plants on any of these dates and locations:
July 27        Drinking Horse Mountain Trailhead
August 2     The 'M' Trailhead
August 9     Gallagator Trail (Lower) (meet on the south end of the library parking lot)
August 12   Gallagator Trail (Upper) (meet on Garfield Street where it intersects Gallagator Trail)
August 16   Sourdough Trail in Bozeman **Evening Meeting time: 6 pm **(meet at Gardner Park trailhead on Gardner Park Drive)
August 23   Sypes Canyon Trailhead (CANCELLED)
August 26   Langhor Park (meet on S. Tracy north of Kagy Corner Store)
We will meet each morning at 7:30 am. (EXCEPT Sourdough Trail which is a 6 pm evening event!) Bring pruning clippers if you have them and wear gloves, long sleeves and long pants of fabrics that burs won't adhere to.  Plan to work for an hour or two, but whatever time you can afford will make a difference.  With your help, we will "Knock out Burdock"!
Contact Paulette Epple at  bigskyepples@msn.com  or   580-6186  for more information.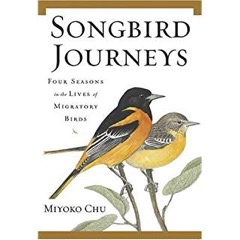 Songbird Journeys, Miyoko Chu
The book delves into the Four Seasons In the Lives of Migratory Birds ) "Until recently, little was known about the lives of songbirds during their travels from autumn until spring. Now scientists have documented mass migrations over the Gulf of Mexico, identified the voices of migrants in the night sky, and showed how songbirds navigate using stars, polarized light, and magnetic fields. Miyoko Chu explores the intricacies underlying the ebb and flow of migration, the cycle of seasons, and the interconnectedness between distant places. Songbird Journeys pays homage to the wonder and beauty of songbirds while revealing the remarkable lives of migratory birds and the scientific quest to answer age-old questions about where songbirds go, how they get there, and what they do in the far-flung places they inhabit throughout the year."
The discussion of Songbird Journeys will be on October 18th, 5:30-6:45PM, in the Hope Lutheran Church.
Please send email to Adele Pittendrigh if you are participating for the first time.adele.pittendrigh@gmail.com. Happy Reading!