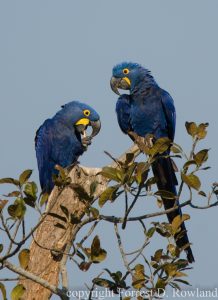 "The Pantanal of Brazil" with Forrest Rowland​
May 8th, 2017
6 p.m. Potluck, 7 p.m. Meeting/Program
Hope Lutheran Church
The Pantanal of Brazil, for those who have heard of it, conjures images of vast swamplands, impenetrable forests, and pristine waterways spanning beyond the horizon. To those who have been there, the reality is even more impressive than the fantasy! Spanning the borders of three countries, the mixed riparian forests, grassy plains, and rich waters of the Pantanal encompass an area of nearly 80,000 square miles. It covers roughly the land area of Virginia, Maryland, Delaware, and New Jersey combined, and then some. Within this mosaic of mixed habitats more than 450 species of birds reside and flourish, alongside the most impressive array of megafauna (large mammals) in the Western Hemisphere. This program is a photo essay of some of the most charismatic creatures that inhabit this vast wildnerness, with a sampling of nearby areas often visited in conjunction with a trip down the famed Transpantaneira Road.
Forrest Rowland's first birding trip, at the tender age of 9-years-old, was to the beautiful island nation of Trinidad, and the world-renowned Asa Wright Nature Center. Among the riot of Toucans, Trogons, Hummingbirds, and tropical foliage, he found his calling. 28 years later, Forrest still spends much of the year guiding tours, conducting research, and traveling the World for the sake of birds and birding.
Not restricted to the Western Hemisphere, Forrest has lived and worked in the Sultanate of Oman, and birded in some 34 countries. While Rowland's birding expertise is centered in the North Andean countries of Colombia, Ecuador, and Peru, he has published articles on various aspects of birds and birding in the United States. Rowland has participated in research projects and led trips from the hottest deserts of Arizona, to the wet Northwest forests of Oregon, across the nation to Ohio and the Appalachian Mountains. Currently, Rowland works full-time as New World Product Director for Rockjumper Birding Adventures, leading a variety of tours across the globe, and organizing new itineraries from his home office in Livingston, Montana.
This is the final program of the season, and will be proceeded by a Sweet & Savory potluck and a short business meeting, beginning at 6 p.m.  The public is welcome to attend.  Please bring a dish to share.