Animal Alert - Cutting-Edge Research
Speaker: Erick Greene
Our season of monthly programs continues on April 10th with a fascinating look at the warning system that birds use to alert other birds and animals to danger. UM Biology Professor Erick Greene will present a program on his research about how birds and mammals share information about predators.
Birds are exceptionally good at detecting predators, and they have a variety of important alarm calls that they produce to warn others. These alarm calls can convey very specific information (e.g. "snake," "perched raptor," "flying raptor," "coyote"). Many species of birds and mammals understand the alarm signals of others. Together, all the watching eyes and ears in the forest form a complex communication network that acts as a distant early warning system about predators. This talk will share some of the latest results of cutting-edge research about how birds and mammals share information about predators.
Erick Greene is a professor in the Division of Biological Sciences and in the Wildlife Biology Program. He grew up in Quebec, Canada, with twin passions for music and nature. Erick dropped out of high school and lived for a year in the Galapagos Islands, helping out on studies on Darwin's Finches. He worked on Ospreys in Nova Scotia for an undergraduate senior thesis. He then received a PhD from Princeton University. Erick has been able to combine his interests in music and biology by studying how animals use sounds to communicate with each other. He has also been able to come full circle and return to studying Ospreys in Montana. He has received numerous awards for teaching and conservation.
Sacajawea Audubon meets every 2nd Monday of the month, September through May. Our meetings are held at Hope Lutheran Church, 2152 W. Graf (off of S. 19th). Come for the social, beginning at 6:30 p.m. A short chapter meeting starts at 7 p.m. with the program following after. Our programs are free and open to the public.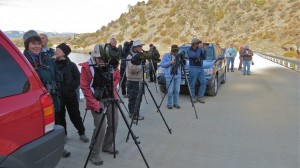 A sure cure for spring fever is lots of early spring birds! The primary focus of this trip will be the migrating waterfowl at Ennis Lake. At this time of year the ducks will be at their dazzling best in full breeding plumage, and usually in great abundance.   Along with the waterfowl, this trip will provide a good opportunity for finding other early migrants such as Sandhill Cranes, Tree Swallows, and Mountain Bluebirds. It is spring in Montana so be sure to be prepared for the weather, with plenty of warm layers of clothing for a day out in the elements. We will return to the museum mid afternoon, so bring a lunch and snacks. This trip will meet at the Museum of the Rockies parking lot at 8 AM Saturday April 1st.  After arranging for carpooling, we will head for Ennis Lake at 8:15. There is a 15 person limit for the trip, so sign up early. Contact Vic Fesolowitz at 539-8251 to reserve a spot.