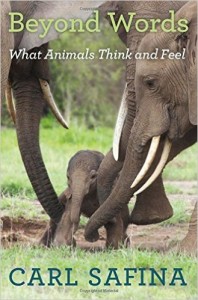 The final reading for the Sacajawea Audubon Book Group this year is Beyond Words: What Animals Think and Feel, by Carl Safina. Safina has won numerous awards and much recognition for his writing. Beyond Words is his seventh book. It's described as beautiful, compassionate, surprising, delightful, and enlightening. The discussion of Beyond Words will be on April 20, 5:30-6:45PM, in the Hope Lutheran Church.
Please send email to Adele Pittendrigh if you are participating for the first time.adele.pittendrigh@gmail.com. Happy Reading!
Support SAS
Support Sacajawea Audubon by:
-Joining Locally
-Sponsoring a Bluebird Nest Box
-Signing Up For A Class
-Or-
AMAZON SMILE
When you make a purchase through Amazon Smile, the Amazon Smile Foundation will make a donation to Sacajawea Audubon. To get started, cut and paste this link to your browser:
http://smile.amazon.com/ch/81-6012429
On The Calendar
April 27th, May 18th & June 8th- Beginning Birding Class
April 29th- Shields Valley Driving Field Trip
April 30th - Madison IBA Bird Census
May 4th- Headwaters IBA
May 4th - Board Meeting, 6:30 p.m.
May 4th - 5th- Gallatin Valley GIVE BIG
May 6th- Headwaters State Park Field Trip
May 8th - Annual SAS Sweet & Savory Potluck
May 11th- Class: Bird Language
May 12th & 13th, 2017- Tom Murphy Photography Workshop, GranTree Inn
May 13th- Middle Cottonwood Canyon Field Trip
May 13th- Paradise Valley Driving Field Trip
May 20th- Old Town Road and Milligan Canyon Field Trip
May 21st- Triple Tree Trail Field Trip
May 24th- East Gallatin Recreation Area Field Trip
May 27th- Sweet Grass County Prairie Field Trip
May 27th- Mount Ellis Field Trip
June 1st- Class: Sparrows & Allies
June 2-4 Red Rock Lakes NWR Field Trip
June 3rd- Paradise Valley Driving Field Trip
June 3rd- East Gallatin Recreation Area Field Trip
June 4th- Spanish Creek Field Trip
June 6th- Sourdough Nature Trail Field Trip
June 9th-11th- MT Audubon Annual Festival, Great Falls
June 15th- Class: Warblers
June 17th- Mission Creek Field Trip
June 18th- Rocky Mountain Rd Bluebird Trail Field Trip
June 22nd- Class: Thrushes & Other Songsters: Birding by Ear
June 23rd- Montana's Nightjars at Lewis and Clark Caverns Field Trip
June 24th- Kelly Canyon and Battle Ridge Field Trip
Recent Sightings
April 23rd- Willet, Cottonwood Reservoir
April 23rd- Ruffed Grouse, So. Cottonwood Canyon Trail
April 22nd- Caspian Tern, Three Forks Ponds
April 22nd- Virginia Rail, Bench Rd.
April 21st- Avocets, East Gallatin Recreation Area
April 21st- Rough-winged and Barn Swallows, Central Park Pond
April 20th- Yellow-rumped Warbler, Woodland Drive
April 20th- Black-necked Stilt, North Shore of Ennis Lake
April 19th- Williamson's Sapsucker, Kirk Hill Nature Trail
April 18th- Common Loon, Hebgen Lake
April 18th- American Avocet, Cottonwood Reservoir
April 17th- Short-eared Owl, Lower Bench Rd.
April 16th- Say's Phoebe, Cooper Rd.
April 16th- Pied-billed Grebe, Three Forks Ponds
April 15th- White-faced Ibis, Cherry River FAS
April 14th- Marsh Wren, Black's Ford FAS
April 13th- Northern Pygmy-Owl, Eagle Rock
April 12th- Swainson's Hawk, Harper Puckett Rd.
April 12th- Western Screech-Owl, Forest Creek
April 11th- Pine Grosbeak, Kirk Hill Trail
April 10th- Red-breasted Merganser & Common Loon, Dailey Lake
April 9th- American Goldfinch, East Gallatin Recreation Area
Board Minutes Abstract
Sacajawea Audubon
Board Meeting
February 2, 2017
Attendees:
Sharon Hanton, Mike Vivion
Chris Nixon, Loreene Reid
Janne Hayward, Vickie Backus
Rick Sanders, John Edwards
Lou Ann Harris
Board approves the minutes from the January 2017 board meeting.
Janne makes treasurer's report.
Discussion of filling currently open and soon to be open board positions.
Sharon and Mike are looking for recommendations.
Vickie Backus, Trident –Peregrine Trail at Headwaters State Park.
There is a proposal to install a shade structure whose cost exceeds the available funds. The board is in favor of an interpretive trail that is focused on support of education and conservation.
Motion approved that SAS supports signage at the trail over spending money on the shade structure; also that we review the MOU for the trail and will write a support letter to FWP and Holsom.
John gives report on February 2nd Berkeley Pit Waterfowl Mitigation Plan committee meeting in Butte.
Motion approved to send a letter to USFWS enforcement division regarding Berkeley Pit bird kill. Letter was drafted by Mike, reviewed and approved by the board, and sent to USFWS on February 6, 2017.
Discussion of the pros and cons of the SAS Newsletter and Website adds.
Links
Social Media

Get Twitter Buttons
Archives
Categories