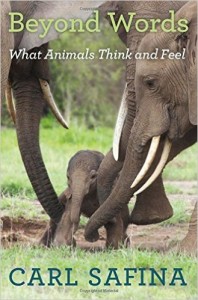 The final reading for the Sacajawea Audubon Book Group this year is Beyond Words: What Animals Think and Feel, by Carl Safina. Safina has won numerous awards and much recognition for his writing. Beyond Words is his seventh book. It's described as beautiful, compassionate, surprising, delightful, and enlightening. The discussion of Beyond Words will be on April 20, 5:30-6:45PM, in the Hope Lutheran Church.
Please send email to Adele Pittendrigh if you are participating for the first time.adele.pittendrigh@gmail.com. Happy Reading!
As part of its continuing series of Wilderness and ... presentations, the Montana Wilderness Association's Madison-Gallatin Chapter will present a free slide and video tour of the diverse Pryor Mountain landscape. The presentation by
Dick Walton, who has fifty years of experience in the Pryors, will emphasize why this unique island range merits careful preservation and will discuss opportunities for its protective management.
"Wilderness and the Pryor Mountains: A Vision for the Future"
"Wilderness and..." is a series of lectures recommended for area newcomers, families, outdoor enthusiasts, and anyone with a passion for wild places and for protecting Montana's wildlands. This program is free and open to the public.
Tuesday, February 6, 2018 at 7:00 p.m.
Large Community Room, Bozeman Public Library, Bozeman, Montana
For more information, contact David Steinmuller at dsteinmul@msn.com or 406-219-2315