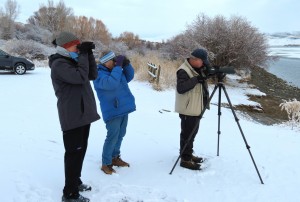 2016 Christmas Bird Counts
On Saturday 17 December, Bozeman conducted its Christmas Bird Count. It was cold, with a temperature range of -27 to -5; the good news was that it was a sunny and calm day. 32 people took part in the count, with another 8 feeder watchers.
Amazingly after 78 CBC's in Bozeman, three new species were added to the cumulative species total. New to the count this year were Northern Shoveler, Eared Grebe, and Long-eared Owl. Other notable birds were Lesser Scaup seen for only the fifth time and American Coot seen for the seventh time. During count week Virginia Rail and Pacific Wren were seen, which have only been seen on count day once and twice, respectively. The big miss of the count was Brown Creeper, which could be chalked-up to everyone keeping their ears warm.
New high counts included Ruffed Grouse-10, Red-tailed Hawk-81, Northern Pygmy Owl-2, Black-billed Magpie-1184, Common Raven-194, and Bohemian Waxwing-5578.
The Ennis Christmas Bird Count took place on December 14th. The conditions for the Ennis count were considerably milder then the Bozeman count, with temperatures ranging from 6 to 25 degrees under mostly cloudy skies. 21 people participated on the count, plus 3 feeder watchers.
The 54 species seen on the count was somewhat lower than has been seen in recent years. We had new high counts for Canada Goose-2050, Great Blue Heron-5, Eurasian Collard-Dove-159 and 2 Mourning Doves which tied a previous record. This was the fifth sighting of Rusty Blackbird and Virginia Rail. Five goldeneyes remained undifferentiated. Mallard, Common Goldeneye, Bald Eagle, Black-billed Magpie, Black-capped Chickadee and House Sparrow are the only species that have been observed on all 57 counts.
20 people spotted 56 species and over 15,000 individual birds on the Three Forks count, during a day with temperatures ranging from -8 to 28 degrees.
Two species, Cackling Goose and Hooded Merganser, were seen for the first time on the Ennis count. Remarkably, new high counts were achieved for 15 species of birds on the count. Some of the notable new high counts were Northern Harrier-22, Rough-legged Hawk-86, and Canyon Wren-5. It was only the sixth time Short-eared Owls have been observed on the Three Forks count.