The Sacajawea Audubon Board of Directors recently drafted a letter to the EPA Superfund Manager regarding the recent death of thousands of snow geese on the Berkeley Pit.  This letter was also sent to several newspapers around the state and has been published in 3 so far.  Please click on the link below to read the letter.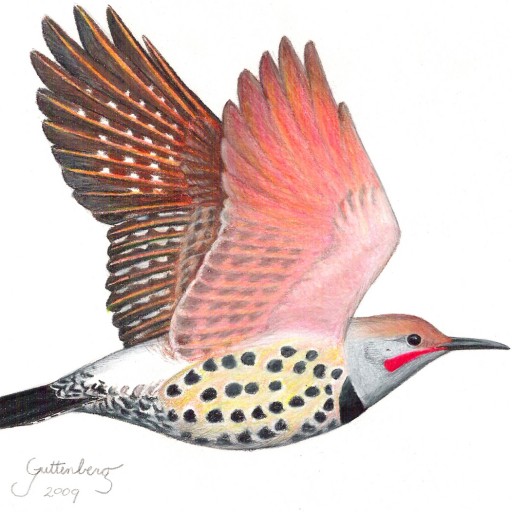 Raptor Identification Workshop and Field Trip
March 1st and 4th  
Presented by: Steve Hoffman,
founder of HawkWatch International
Have you ever wanted to sharpen your raptor identification skills? If so, this is the workshop for you! On Wednesday evening Steve will provide a detailed discussion of the identification and natural history of all raptor (e.g., hawks, eagles, falcons, etc.) species wintering in the Gallatin Valley. Steve's illustrated talk will include a description of the many plumage variations (including subspecies and color forms, as well as age and sex variations) of the more common and observable species. Helpful behavioral clues will also be incorporated. Eagles, falcons and the "buteo" hawks (such as Red-tailed Hawks) will be emphasized. Participants will then go into the field (north of Bozeman) on Saturday to practice their newly-developed skills. Steve's presentation will be especially valuable for "intermediate" and "advanced" raptor watching enthusiasts, although beginners will also find this workshop quite helpful.
The Wednesday night presentation will start at 6:30 PM and last till 8:45 PM, in the Bozeman Public Library's small conference room.
Saturday morning's field trip will meet at the Museum of the Rockies at 8:15 am, and leave at 8:30. Be sure to dress for the weather and bring any necessary drinks or snacks for this 4-5 hour trip. If you have a spotting scope you can bring, that would be helpful.
There is a $40 fee for current Sacajawea Audubon members, and just $15 for participants under age 25, or $60 for non-members (the $60 includes a $25 Sacajawea Audubon membership). There is a 20-person limit for the workshop and field trip. Advance reservation and payment is required. For more information and to make reservations please call John Parker at 586-5863 or e-mail birdsightings@sacajaweaaudubon.org.
Monday January 9th, 2016 at 7pm
Hope Lutheran Church
2152 W. Graf Street in Bozeman
Steve Hoffman recently retired as Executive Director of Montana Audubon, serving in this capacity for more than decade (2006-2016). He has devoted his entire 38- year career to wildlife conservation. After 10 years of government service (mostly as an Endangered Species Biologist for the US Fish & Wildlife Service in the American Southwest), Steve founded HawkWatch International, a not-for-profit organization dedicated to monitoring and conserving hawks, eagles and other raptors across the American West (he launched the Bridger Raptor Migration Project in 1991). Steve moved to Bozeman more than 12 years ago from his birth state of Pennsylvania. He has authored more than 35 scientific papers on raptor migration ecology & conservation, and endangered species management. Steve has given dozens of presentations on the identification, migration and conservation of raptors to diverse audiences throughout the US and abroad. He earned his M.S. degree in Wildlife Ecology from Utah State University (Logan, UT) in 1979.
Steve will present an overview of the Veracruz River of Raptors Project (VRR), located near the Gulf Coast in eastern Mexico. This project was developed to monitor the largest raptor migration on Earth (4-6 million raptors of >20 species are tallied each autumn). As co-founder of the project, Steve will summarize how VRR was launched, and will provide an overview of key findings from this remarkable 25-year raptor population monitoring effort. Steve will also highlight his upcoming fall 2017 birding tour to Veracruz (through Merlin Birding Tours), including opportunities to view this absolutely stunning raptor migration spectacle; participants will also enjoy many other diverse birding experiences in central and southern Veracruz - over 300 bird species may be observed on this trip!
Sacajawea Audubon meets every 2nd Monday of the month, September through May. Our meetings are held at Hope Lutheran Church, 2152 W. Graf (off of S. 19th). Come for the social, beginning at 6:30 p.m. A short chapter meeting starts at 7 p.m. with the program following after. Our programs are free and open to the public.

If you do your holiday shopping online and use Amazon, you can support our chapter by using the Amazon Smile website.  Your purchases will generate donations for Sacajawea Audubon.
Holiday shopping is easy with Amazon's Holiday Gift Guides. #StartWithaSmile at smile.amazon.com for your holiday gifts and Amazon donates to Sacajawea Audubon Society.
Gift Guide Link: http://smile.amazon.com/gp/charity/homepage.html?orig=%2Fgp%2Fbrowse.html%3Fnode%3D12745394011&ein=81-6012429
Give it a try and support bird conservation in Southwest Montana!