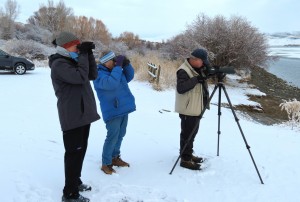 Come join the fun on one of our area's Christmas Bird Counts. The Christmas counts, started in 1900, are an opportunity for beginning and expert birders to get together and enjoy this holiday tradition.
---
Ennis
Wednesday, December 14th
Compiler: Robin Wolcott (406) 581-5418
pajaros@wewolcotts.com  email preferred
Meet at Yesterday's Café in the Ennis Pharmacy, by 7:30 AM or sooner for breakfast
Bozeman
Saturday, December 17th
Compiler: John Parker (406) 586-5863
Meet at Perkins Restaurant, 2505 West Main, in Bozeman, between 7-7:30 AM
West Yellowstone
Sunday, December 18th
Compiler: Brad Barth (406) 640-2628
Meet at the Grizzly and Wolf Discovery Center, in West Yellowstone at 8:30 AM
Livingston
Sunday, December 18th
Compiler: Sally MacDonald (406) 223-9167
Meet at the Northern Pacific Beanery, in Livingston between 7:00-7:30 AM
Yellowstone            
Sunday, December 18th
Compiler: Woody Martyn (406) 224-1476
Meet at the Yellowstone Grill, in Gardiner, at  7:00 AM
Three Forks
Monday, December 26th
Compiler: Tom Forwood (406) 570-6432
tforwood@mt.gov  email preferred
Meet at Wheat Montana at exit 274 at 8:30 AM or by 8:00 for breakfast
Ruby Valley
Wednesday, January 4th
Compiler: Tom Forwood (406) 570-6432
tforwood@mt.gov  email preferred
Meet at 8:30 location to be announced
---
For more information, contact the area count compilers. Please Contact the area compiler before the count, as this will give them the opportunity to plan and organize the count before the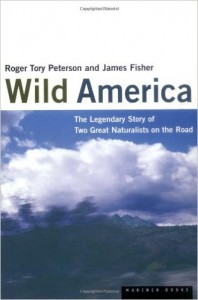 The SAS Book Group is meeting December 8th at 5:30 p.m. at Hope Lutheran Church
Join them as they discuss, Wild America: The Record of a 30,000 Mile Journey Around the Continent by a Distinguished Naturalist and His British Colleague. The Legendary Story of Two Great Naturalists on the Road. Roger Troy Peterson and James Fisher
The group meets every 6 weeks, usually at Hope Lutheran Church, but not always. All are welcome, but if you are coming for the first time, please contact Adele Pittendrigh at 587-7710 or email, adele.pittendrigh@gmail.com.
Monday December 12th, 2016 at 7pm
Hope Lutheran Church
2152 W. Graf Street in Bozeman
Conservation easements are one of the most powerful tools to accomplish habitat protection for birds and other wildlife. Join Sacajawea Audubon in welcoming Kathryn Kelly of The Montana Land Reliance and learn about the basic process and benefits of creating conservation easements, the work of The Montana Land Reliance (MLR), and projects that are protecting various habitats for raptors, sage grouse and other birds.
We'll explore the many intersections between the missions and work of Sacajawea Audubon and The Montana Land Reliance and discuss ways in which we can work together to increase conservation and protect more bird habitat lands.
Sacajawea Audubon members have already had connections with MLR through field trips to the Woodson Ranch/Ruby Habitat Foundation in the Ruby Valley and the Granger Ranches in the Madison Valley; both MLR protected properties.
Kathryn Kelly is the Greater Yellowstone Manager with The Montana Land Reliance (MLR), Montana's statewide land trust. She works with landowners to create conservation easements on private lands in the Greater Yellowstone region of Montana. Her additional duties include education and outreach
programs, building support for the organization and private land conservation, donor development and fundraising. Kathryn was raised on a ranch on the banks of the Gallatin River outside Bozeman. She lived in Fairbanks, Alaska for several years and is an alumni of the University of Alaska where she majored in biology. Kathryn had a successful career in real estate, title insurance, escrow administration, management, and teaching in California's Bay Area before returning home to Montana. She's been a longtime activist addressing the increasing development pressure in the Gallatin Valley, protecting the Gallatin River system and agricultural water rights. Before joining the Reliance in 2014, Kathryn was involved with MLR for many years as a supporter and education and outreach volunteer. She and her parents donated conservation easements on the family ranch to MLR in 2001 and 2007. The Kelly Ranch has been the site of two Sacajawea Audubon field trips in 2015 and 2016.

Sacajawea Audubon meets every 2nd Monday of the month, September through May. Our meetings are held at Hope Lutheran Church, 2152 W. Graf (off of S. 19th). Come for the social, beginning at 6:30 p.m. A short chapter meeting starts at 7 p.m. with the program following after. Our programs are free and open to the public.

Sacajawea Audubon 2016 Bluebird Trail Summary
Overall, 2016 was a productive year for Mountain Bluebirds.  A total of 676 bluebirds fledged from nest boxes on our 6 monitored trails.  181 boxes were used out of 272 available.  The remainder were used by tree swallows and house wrens.
Because of a relatively mild spring, the bluebirds began laying eggs over a week earlier than usual.  Even a mid-May snowstorm didn't slow them down.  The Rocky Mountain Road trail had it's earliest-ever nestling, found on May 4th.
On the Pass Creek Rd./Rocky Mountain Rd. trails, we banded a total of 310 birds, 268 nestlings and 42 adult females.  We also recaptured 8 females, a couple of which had been banded as nestlings the previous year.  It's nice to know they are coming back to nest in their natal area.
Predation of nests was up from previous years.  The Rocky Mountain Rd. trail had a total of 24 predated nests (up from 18 last year).  The Pass Creek trail had 34 nests predated (up from 32 last year).  The causes were varied: snakes, raccoons, weasels, kestrels & house sparrows.  In fact one box was found to have a complete house sparrow nest built on top of a dead female bluebird.
One of the most interesting events of the nesting season was an epic battle between a resident male bluebird (whose mate and nestlings had died), and another bluebird pair for the occupancy of Box 70 on Rocky Mountain Road.  The three birds were so engrossed in their fight that they were oblivious to our presence and even slammed into my car on two occasions.  In the end, the new pair won out and successfully raised six fledglings.  And we thought bluebirds were such gentle creatures!
We took a total of 22 people out on the bluebird trails this summer, including 10 on the June 12th field trip.  Everyone loves to see those little bluebird nestlings and hold one in their hands.
The bluebird nest box sponsorship program was a great success, and we plan to do it again for 2017.  Following is a complete report of the success (or failure) of each box, along with its sponsor.  Please click on the link below for the full report.
Lou Ann Harris
Join Sacajawea Audubon on November 14th for a talk by Andrea Litt on the effect nonnative plants has on animals.  Nonnative plants have established in nearly all ecosystems. Although many studies have documented major changes in the plant community when a nonnative plant invades, we know less about the effects on animals. Further, sometimes these changes are not predictable, as nonnative plants change the rules we have come to understand. Andrea will share some of the research that she and her students have pursued in Arizona, Texas, and Montana to better understand these complex responses.
Andrea is originally from southeastern Wisconsin and received a Bachelor's degree in Zoology from the University of Wisconsin - Madison. She completed a Master's degree at the University of Florida, Department of Wildlife Ecology and Conservation. She worked for The Nature Conservancy in northwest Florida for two years before beginning a Ph.D. program in the School of Natural Resources at the University of Arizona. Andrea also earned a minor in Statistics. She was a faculty member with the Caesar Kleberg Wildlife Research Institute at Texas A&M University - Kingsville before joining the Ecology department at MSU in January 2011.
Andrea and her students examine changes to wildlife resulting from various human activities including invasive plants, altered disturbance regimes, and changes in land use. They work on a diversity of taxa, based on the ecological question of interest.
When not working, Andrea enjoys road biking, hiking, and otherwise enjoying the natural beauty of Montana and beyond.
Sacajawea Audubon meets every 2nd Monday of the month, September through May. Our meetings are held at Hope Lutheran Church, 2152 W. Graf (off of S. 19th). Come for the social, beginning at 6:30 p.m. A short chapter meeting starts at 7 p.m. with the program following after. Our programs are free and open to the public.
Support the Bridger Mountains Raptor Count (now in it's 25th year), which records one of the largest concentrations of autumnal migrant Golden Eagles known in the Lower 48.  Help Sacajawea Audubon and Montana Audubon continue this important research project in our very own Bridger Mountains by purchasing a raffle ticket, and be one of two winners of a Bridger Bowl Season Ski Pass (2016-2017). Raffle tickets are $10 each or 6 for $50.
To purchase a ticket, call Mike Vivion at (406) 210-8071 or Loreene Reid at (406) 600-6666.  Tickets will also be available at our November 14th meeting.
Drawing Date: November 14, 2016 at the SAS November meeting, Hope Lutheran Church.