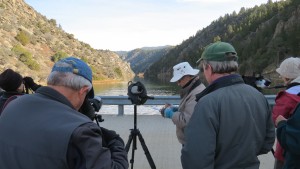 Ennis Lake Waterfowl
Saturday, October 22, 2016
Trip Leader: John Parker  406-586-5863         conundrumjp@gmail.com
Meet at 7:45 am at the Museum of the Rockies. Carpool and leave at 8 am.
This should be near the peak time for migrating waterfowl. Ennis Lake is one of the premiere staging areas for migrating waterfowl in southwestern Montana. Thousands of ducks can be spread across the lake on any given day. As is typical with high concentrations of birds, there is always the possibility of a rarity being found.   Bring a lunch as we'll be out until at least mid-afternoon. Also, remember to bring plenty of warm clothes as it will likely be cold and windy.
Participants limited to 15
To reserve a spot on the trip or for more information please contact the trip leader.