Join Sacajawea Audubon for a special presentation on the raptors of South America.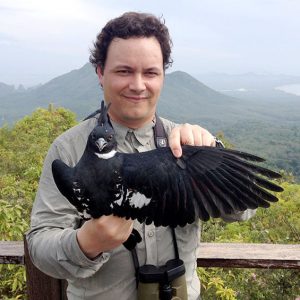 Raptors of South America: A Field Guide
Presented by Sergio Seipke
When: Monday, September 12th at 7 pm
Where: Hope Luthern Church, 2152 W. Graf Street in Bozeman
Join worldclass raptor specialist, Sergio Seipke, for his presentation Raptors of South America: A Field Guide.  Sergio will be showcasing the large and diverse assemblage of raptor species that inhabit the South American continent. Sergio has studied this fascinating group of birds for much of his life; he will describe the natural history and conservation of these birds, with notes about the plumage variation of this peculiar raptor fauna.
Sergio started watching and learning about raptors in 1993. He was a Hawk Mountain trainee twice: first in 2005 and again in 2006. In February 2013, he formed Raptours, L.L.C. and has since designed, organized, and led or co-led raptor tours in eight countries in four continents. He is currently writing Raptors of South America, the first field guide for the subcontinent. He has authored and co-authored 16 articles dealing with raptor biology, migration, taxonomy, and field identification of Neotropical raptors.
Sacajawea Audubon meets every 2nd Monday of the month, September through May. Our meetings are held at Hope Lutheran Church, 2152 W. Graf (off of S. 19th). Come for the social, beginning at 6:30 p.m. A short chapter meeting starts at 7 p.m. with the program following after. Our programs are free and open to the public.
WHAT: Raptor (hawks, eagles, falcons, harriers, etc.) Identification Workshop (for all skill levels).
WHEN: Saturday, August 20th (8:15 AM – 5:00 PM); includes 90-minute classroom instruction, followed by field excursion to the Gravelly Mountains (NO hiking involved; carpooling will be required to minimize the number of vehicles on this fairly narrow gravel road).
WHERE: We will meet at Pronghorn Meadows Clubhouse (3 miles SW of Ennis on the highway to Virginia City) @8:15 AM.  At the conclusion of the classroom session we will arrange carpooling and then drive to the crest of the Gravelly Range, where we will search for soaring raptors that use the abundant updrafts along this high ridgeline.
WHY: This exciting late-summer period is ideal for viewing a diversity and abundance of pre-migratory, staging raptors that often congregate atop the Gravellys to hunt ground squirrels, pocket gophers, voles, grasshoppers & crickets. (Species likely to be encountered: American Kestrels, Prairie Falcons, Red-tailed Hawks, Swainson's Hawks, Ferruginous Hawks, Northern Harriers, Golden & Bald Eagles & Ospreys).
WHO: Steve Hoffman, Executive Director of Montana Audubon (since 2006), began his career as a Wildlife Biologist for the U.S. Bureau of Land Management in Arizona (1978-1980).  He later worked as an Endangered Species Specialist for the US Fish & Wildlife Service in Albuquerque (1980-1987). In 1986 Steve founded HawkWatch International (HWI), a not-for-profit working to monitor and protect raptors.  In 2000 Steve returned to his birth state of Pennsylvania to become Director of Bird Conservation for Audubon Pennsylvania.  In 2004 Steve moved to Bozeman to serve as Director of Keystone Conservation.  Steve has authored more than 35 scientific papers on raptors and other wildlife-related topics, and has given hundreds of presentations on raptors to audiences across the U.S. & abroad. Steve has an M.S. in Wildlife Ecology from Utah State University (1979).
COST: $50 for each participant (tax-deductible donation; lunch & snacks will be provided). Make checks payable to:  Montana Audubon, PO Box 595, Helena, MT 59624, or pay online by going to: www.mtaudubon.org (designate "Ennis Raptor Workshop" in "Notes" section).
QUESTIONS: Call 443.3949, or email mtaudubon@mtaudubon.org – space is limited and pre-registration is required – register TODAY!  (This field trip will be limited to 20 participants.)
Complete and clip this form, and mail to:  Montana Audubon, PO Box 595, Helena, MT 59624.
Name:  ___________________________________________ Phone:  _____________________________
Address (city/zip):  _____________________________________________________________________
Email:  __________________________________________ Are you a MT Audubon member?  ________
Are you willing to drive on the field trip? ____________   If so, how many total passengers can you accommodate? __________