It's not too late to form a team and complete a Birdathon!  

Birdathon is the chapter's biggest fundraiser and over the past two years has raised over $7,000.  That's a lot of moolah to be used for our conservation and education projects!  It's easy to do.  Call up your favorite birding friends and form a team.  Each team should have at least 2 members.  Fill out a team registration form (Team Reg Form 2016 ) and send it in with a $50 donation fee to Sacajawea Audubon.  Then call up all your family, friends, hair stylists, insurance agents, yoga instructors, etc. and collect pledges.  They can pledge per species or a set amount.  Schedule a day to do your Birdathon between now and June 26th.  You can do a full day or half day.  You can bird in your backyard, or cover a 3-county area.  You can even do a Birdathon in another state!
There are all sorts of awards to compete for:  Most Bird Species, Most $$ Raised, Most Pledges, Most Magpies, Most Raptors, Carbon Footprint Award, Most Species in an Important Bird Area, Most Bird Species in a Half-Day, etc.  There will be a Awards Party at E. Gallatin Recreation Area on June 30th.  How can you pass up this much fun?
For more information, click on the "Birdathon 2016" tab on this website, or call/email Lou Ann Harris at 600-3585 or montlou311@gmail.com.
Join Sacajawea Audubon for a special presentation on the Whooping Crane.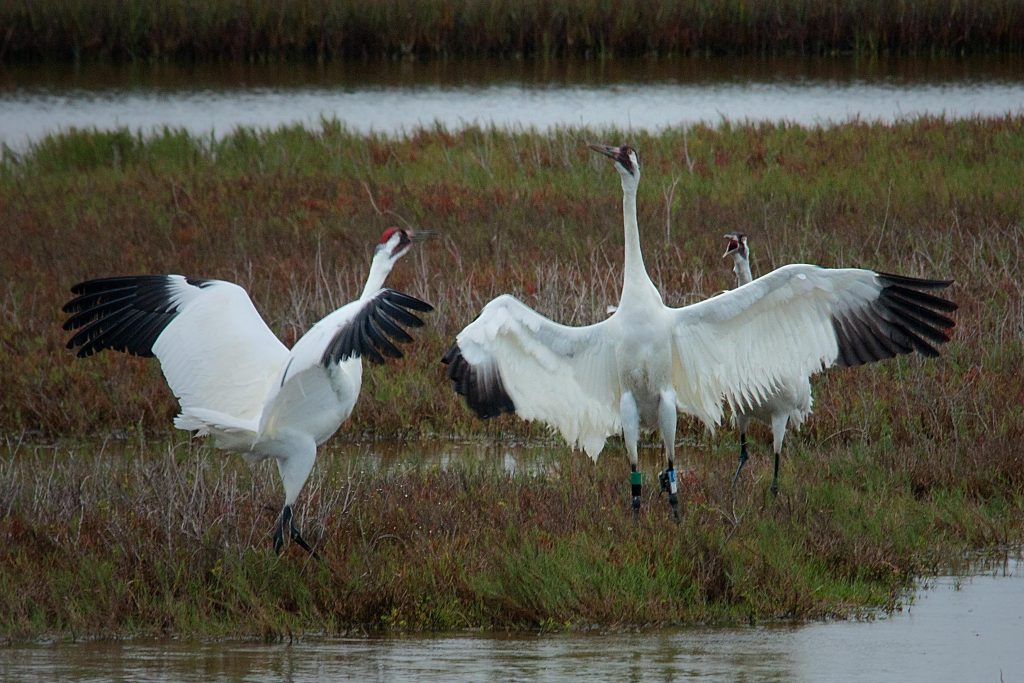 Whooping Cranes: America's Symbol of Survival and Hope
 Presented by Elizabeth H. Smith, Ph.D.
Director, Texas Whooping Crane Program
International Crane Foundation
When:  Tuesday, May 24th at 7 pm
Where: Hope Lutheran Church, 2152 W. Graf Street in Bozeman
How does a species, reduced to a mere 21 birds in 1941, recover to over 600 today? Learn how this endangered species has faced unnatural hazards with natural instincts to survive. Become part of the world that we and cranes hope to coexist and thrive in.
Liz Smith is the Director of the International Crane Foundation's Texas Whooping Crane Program, and has been conducting important research on cranes and their habitat in coastal Texas for over 20 years. Liz continues to expand her research on sea-level rise and storm surge effects on coastal habitat change, and promoting community advocacy for conservation planning and coastal protection.  These efforts are being undertaken with the specific goal of ensuring quality wintering habitat for the Whooping Crane as its' populations continue to increase.
Most of Liz's career has been focused on coastal Texas, and she has been nationally recognized in receiving the Coastal America Partnership Award for Restoration at Bahia Grande and Protection at Shamrock Island, EPA Award for Environmental Excellence in Wetlands, as well as regionally recognized in receiving the Conservation and Environmental Stewardship Award for Higher Education and Pathways to Success in Science Programs.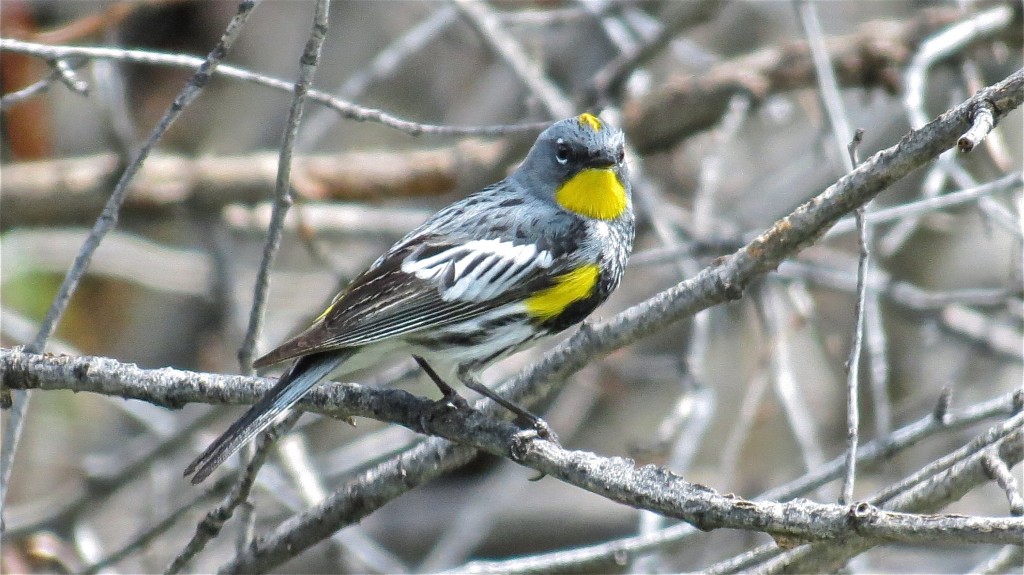 2016 SACAJAWEA AUDUBON BIRDING WORKSHOPS
Birds inspire curiosity and a sense of wonder.  Ever wonder who exactly is whistling "Hey Sweetie!" outside your window in the wee hours of the morning?  Or how to identify a bird based on a flash of yellow feathers? Or what the little brown bird in the woodpile is called?  Or why she's there in the first place?  To help you answer all of these questions and more, Sacajawea Audubon Society is offering a BEGINNING BIRDING WORKSHOP and -- *new this year* -- an INTERMEDIATE BIRDING WORKSHOP, as well as the return of the INTRO TO BIRD LANGUAGE workshop.
All courses will be taught by Ashley Martens, an experienced birder, naturalist, and outdoor educator.  Ashley's approach to teaching birding engages all of your senses to tune in to what you see, hear, and love about the wild birds around us.  Contact Ashley at ashmartens@yahoo.com or 208-883-4998 for more information and to register for all classes detailed below.
BEGINNING BIRDING IN FOREST AND FIELD WORKSHOP  **CLASS IS FULL**
Participants will be introduced to the basics of birding through 3 evening classroom sessions and 3 field trips to a variety of habitats in the valley.  We will cover bird families, common birds in our region, and what to look and listen for when seeking out the identity of a bird.
Classroom Sessions: Thurs eves April 28, May 19, and June 9       6:30-8pm        Hope Lutheran Church
Field Trips: Saturday mornings April 30, May 21, and June 11      7-10am            Various Locations
Cost:  $95 for Sacajawea Audubon members; $115 for non-members. Please make checks payable to "Sacajawea Audubon Society" and mail to Ashley Martens at 42 Hitching Post Rd., Bozeman, MT 59715.
Maximum 8 students.  Supply lists will be provided upon registration.
INTERMEDIATE BIRDING WORKSHOP   **CLASS IS FULL**
This is the perfect class for birders who want to boost their birding skills up a notch and start studying more details of plumage, bird behaviors, and more sight and sound identification tips.  We will spend some extra time on common families of birds in our region that can be challenging to identify such as warblers and sparrows.  We'll meet 2 evenings in the classroom and take 2 field trips to hone our skills.
Classroom Sessions: Thurs eves June 2 and 16         6:30-8pm        Bozeman Public Library
Field Trips: Saturday mornings June 4 and 18          7-10am            Various Locations
Cost:  $70 for Sacajawea Audubon members; $90 for non-members. Please make checks payable to "Sacajawea Audubon Society" and mail to Ashley Martens at 42 Hitching Post Rd., Bozeman, MT 59715.
Maximum 8 students.  Supply lists will be provided upon registration.
INTRO TO BIRD LANGUAGE WORKSHOP
Birds are the true messengers of the forests. They can tell us if there's a fox hiding in the brush, a person about to run down the trail, a sharp-shinned hawk about to fly through.  Come learn the ancient art of bird language in an introductory class taught by naturalist Ashley Martens. We'll learn the 5 voices of the birds as well as some alarm patterns.  Then we'll head out for a short "bird sit" to look and listen for those voices.  Bird language can inform us on a much deeper level what is going on in the forest.  Awareness of bird language also inevitably leads to a deeper awareness of self. (How do birds respond when YOU move through the woods?)
Monday, June 6th  6-8pm at the Sourdough Nature Trail (Gardner Park Trailhead).
Cost:  Free for participants in our other workshops, $5-10 donation for others to support Sacajawea Audubon's growing educational programs.
Maximum 12 students.  No supplies necessary.
Ashley Martens True Nature Education
This past winter has just been declared the warmest winter on record for the United States. On March 5th volunteers conducted a survey of the Madison Valley IBA and noticed the effect. The warming trend had certainly played out in the Madison Valley with little snow remaining on the valley floor and Ennis Lake already one quarter open. In-spite of strong winds that kept many of the songbirds down and less visible we had the highest number of species (43) for any of our counts this early in the month. The number of individual birds seen for an early March count was also the highest ever due to the large number of waterfowl on Ennis Lake.
Some other highlights and observations: The number of Bald Eagles seen (64) was about double the average! They were concentrated on, and around, Ennis Lake, probably feeding on the waterfowl present. Only 1 Rough-legged Hawk was seen. It seems they left early due to the mild winter. Early migrants found included Tree Swallows (3), Robins, Red-winged Blackbirds, Mountain Bluebirds, and an American Kestrel. The most unusual bird seen was a Green-tailed Towhee which wintered over at the El Western Motel and has been coming in to their feeders.
If you would like to put your birding skills to good use, join us on our next IBA surveys. We'd love your help!
June 18th – Headwaters IBA                Contact Martha Collins – marthacoll@msn.com (579-0506)
June 29th – Madison Valley IBA        Contact Paulette Epple – bigskyepples@msn.com (580-6186)
2016 Sacajawea Audubon Spring Birding Series
Participants in all trips will meet at the front parking lot of the Museum of the Rockies at 6:45 AM and depart at 7:00 AM unless otherwise noted. Car pools will be arranged at the museum; an offer to help with gas to the person driving is always appreciated but not mandatory. Dress for the weather; good footwear is a must as field trip conditions are not always dry.  Bring any food or beverages that you will need during the course of the trips, and some of the longer trips might require that you pack a lunch. Turn off your cell phones and keep unnecessary conversations to a minimum.  Some field trips are limited to a certain number of participants. Contact the trip leader for more details about any trip, and to sign up for the trip. We encourage all skill levels or birders to participate. Come have a good time and learn something new.
➢ April 23, Saturday: Shields Valley Driving Tour    
Leader: Forrest Rowland  814-573-1391  rowbird2005@gmail.com  (Options for half to full day) 
Visit Shields Valley's birding hot spots with local guides.  The array of habitats visited will range from dense riparian, lush agricultural, shortgrass prairie, and sage flats at lower elevations, up through mixed Douglas Fir and Pine forests to high-elevation Sub-alpine Fir, depending on road conditions. We will also spend plenty of time birding Cottonwood Reservoir , which will surely be loaded with waterfowl and shorebirds at this peak time of year.  Meet at the Clyde Park Post Office parking lot, at 7:00 AM for car-pooling.
➢May 7, Saturday: Paradise Valley Driving Tour
Leader: Mitch Hurt  406-223-4919 wildbirdhunting@gmail.com   (Options for half- to almost full day)
Visit Paradise Valley birding hotspots with local guides – spring creeks, Yellowstone River, prairies/hillsides, and Dailey Lake.  The diversity of habitat covered on the trip, along with it being the beginning of songbird migration, should yield a huge variety of birds.   Meet at Livingston Albertson's parking lot, northeast corner at 7:30 AM for car-pooling.
➢ May 8, Sunday: Headwaters State Park
Leader:  Martha Collins   586-9478 or 579-0506 marthacoll@msn.com  (1/2 day trip; easy walking)
The Headwaters area includes a variety of habitats, including sage/grassland and riparian, so anything from waterfowl to sparrows can occur.  One of the unique features of the Headwaters area are the limestone cliffs, which support several cliff nesting species such as Prairie Falcons and White-throated Swifts.  The park, which is situated along the Missouri River corridor, is an ideal location to observe early spring migrants. Those wishing to meet at the Headwaters area contact the trip leader.  15 person limit.
➢ May 14, Saturday: Old Town Road and Milligan Canyon
Leader: Tom Forwood  570-6432 fwptforwood@gmail.com   (1/2 day trip; mostly driving with light walking on roads)
This trip begins along the cottonwood bottomlands of the Jefferson River, and then abruptly moves into dry greasewood/sage scrubland habitat.  Birds along this section will range from Dusky Flycatchers and Bullock's Orioles, to Sage Thrashers and Brewer's Sparrows.  The route then cuts through the arid limestone cliffs of Milligan Canyon.  Canyon Wrens, Rock Wrens, and Spotted Towhees frequent this dry landscape.  Golden Eagles and Pinyon Jays are also a possibility along this portion of the trip. 15 person limit
➢ May 14, Saturday: Sweet Grass County Prairie Bird Tour
Leader: Beth Madden  406-224-1012  bethmadden64@gmail.com  (5-6 hour driving tour till early-mid afternoon)
Celebrate International Migratory Bird Day on the prairies!  We will follow an approximately 40-mile driving route through prairie and agricultural landscapes north of Big Timber.  Past trips have yielded curlews, cranes, raptors, and prairie songbirds from Bobolinks to longspurs.  Stops at wetlands will yield water birds.  Meet in Big Timber (Big Timber is 63 miles east of Bozeman on Interstate 90) at the Town Pump located at I-90 Exit 367 at 8:00 a.m. for carpooling.
➢ May 15, Sunday: Mount Ellis
Leader:  John Parker  586-5863  conundrumjp@gmail.com  (4-5 hour trip; moderately strenuous walking, 3 miles)
This slow-paced hike of approximately 3 miles, will explore a number of habitats on State and Forest Service lands, including grassland, aspen meadow, and conifer forest edge.  At this time of year many of the nesting birds, such as Calliope Hummingbirds, Red-naped Sapsuckers, Dusky Flycatchers, Orange-crowned Warblers, and a wide variety of sparrows will have arrived on their territories.  Along with terrific views of the Gallatin Valley, the wildflowers on this walk will likely distract you from the diversity of birds.  12 person limit
➢ May 21, Saturday: Triple Tree Trail
Leader:  Lou Ann Harris  406-600-3585  montlou311@gmail.com  (5 hour trip; moderately strenuous climbing, 500 feet elevation gain, 4 miles)
As this trail climbs the hillside it passes through a number of habitats, and transitional edges between them.  At the bottom of the mountain, grassland quickly gives way to brushy deciduous habitat as the trail crosses Limestone Creek, where Ruffed Grouse, Calliope Hummingbirds, and Lazuli Buntings are some of the birds to expect.  The trail then ascends through Douglas Fir and lodgepole pine forests with a wide variety of nesting birds, including Cassin's Vireo, Swanson's Thrush, and Western Tanager.  This trip features perhaps the greatest diversity of any short hike in the Gallatin Valley.  12 person limit
➢ May 21, Saturday: Paradise Valley Driving Tour
Leader:  George Kelly  406-220-0282  gjkingfisher@gmail.com  (Options for half-to almost full day)
Visit Paradise Valley birding hotspots with local guides - spring creeks, Yellowstone River, prairies/hillsides, and Dailey Lake.  The diversity of habitat covered on the trip, along with it being the peak of songbird migration should yield a huge variety of birds.  Meet at Livingston Albertson's parking lot, northeast corner at 7:30 a.m. for carpooling.
➢ May 22, Sunday: East Gallatin Recreation Area

Leader: Brad Barth 406-640-2628 or barth.brad@gmail.com   (3-4 hour trip; easy walking at most two miles)

There are lots of possibilities with this local area. Over 180 bird species have been seen in the recreation area.  We will be searching at near the peak of migration, so we hope for some surprises.   With a pond, riparian habitat, limited grassland, and mature cottonwoods we hope to see good diversity of what Gallatin Valley has to offer.   Species may include several Warblers, Lazuli Bunting, Gray Catbird, Warbling Vireo, Black Headed Grosbeak, Osprey, and flycatchers.  The walk will be at a leisurely pace with lots of stops to listen.  Bathrooms are nearby throughout.  12 person limit 
➢ May 28, Saturday: Mission Creek
Leader:  Robin Wolcott  581-5418 pajaros@wewolcotts.com 
(Till mid-afternoon; mostly driving with light walking on roads)
In the rolling prairie just east of Livingston we will seek McCown's Longspur and Long-billed Curlew. Along Little Mission Creek we will watch for riparian species, then search for residents of the spruce/fir forest. On our return along Mission Creek we could find a Cordilleran Flycatcher or a Golden Eagle. Over 130 species have been seen along this route including Sprague's Pipit, Upland Sandpiper, and Green-tailed Towhee.  Spectacular views, abundant wild flowers, and wildlife make the trip through the northern foothills of the Absaroka Mountains a trip to remember.  After leaving Bozeman, we will reconvene at Albertson's parking lot in Livingston at 7:30 AM and then leave from there at 7:45 AM Car-pooling is essential.   14 person limit
➢  June 3-5:  Please join us at the 2016 Montana Audubon Bird Festival in Missoula, MT. 
Contact Montana Audubon at (406) 443-3949 or go to www.mtaudubon.org. Come join the fun.
➢ June 9, Thursday: Sourdough Nature Trail
Leader:   Adele Pittendrigh 599-5086  Adele.pittendrigh@gmail.com  (4-5 hour easy walking)
After leaving the MOR parking lot, this trip will begin at the Gardner Park entrance.  The trail is an easy, level stroll following Sourdough Creek.   This trip is at the peak of the breeding season so we should see and hear a variety of flycatchers, thrushes and warblers.  Some of the nesting neotropic birds nesting here are Northern Waterthrush, American Redstart, and Black-headed Grosbeak.  12 person limit.
➢ June 11, Saturday: Spanish Creek
Leader:  John Parker,  586-5863   conundrumjp@gmail.com
(4-5 hours; moderately strenuous walking on forest trail, with several hundred foot elevation gain)
This trip follows Spanish Creek through the Flying D Ranch, to the edge of the Lee Metcalf Wilderness.  At the trailhead there is an interesting juxtaposition of habitats.  In one direction the trail borders the wet willow riparian area along Spanish Creek, where Willow Flycatchers and Lincoln's Sparrows nest.  While going in the other direction, the trail climbs through dry open slopes where you can expect to see Green-tailed Towhees, Brewer's Sparrows, and Lazuli Buntings. 12 person limit.
➢ June 12, Sunday: Rocky Mountain Rd Bluebird Trail

Leaders:  Janne Hayward  587-6124  jannehayward@juno.com , and Lou Ann Harris 600-3585 montlou311@gmail.com
(1/2 day trip, mostly driving)
Get up close and personal with Mountain Bluebirds.  Join bluebirders Janne Hayward and Lou Ann Harris, as they check bluebird nest boxes and band adults and nestlings along Rocky Mountain Road and Pass Creek Road.  This is a rare opportunity to get an inside look at the lives of these amazing birds, including nest building, egg laying and raising young.  Due to the sensitive nature of the work, we are limiting these field trips to 8 participants. 
➢ June 18, Saturday: Kelly Canyon and Battle Ridge
Leaders:   Ron and Cheryl Farmer 586-3987  songbird@wispwest.net
(1/2 day trip; driving and walking along gravel roads)
This trip passes through open fields, then climbs past dry juniper- covered hillsides, mature wetlands, mixed woodlands, and eventually reaches into the conifer forest.  Mountain Bluebirds, Spotted Towhees, Calliope Hummingbirds, Black-headed Grosbeaks, and Western Tanagers are just a few of the species that we should see along this route.  After Kelly Canyon, this trip will continue up Bridger Canyon to Battle Ridge.  At this higher elevation a new suite of breeding birds makes this area home.  Williamson's Sapsuckers, Brown Creepers, Swainson's Thrushes are a few of the nesting species in this area.  Four car limit.
➢ June 24, Friday: Montana's Nightjars at Lewis & Clark Caverns

Leader: Tom Forwood at  406-570-6432  fwptforwood@gmail.com  (2 1/2 hour; 2-3 mile walk)

Check out Montana's two species of Nightjar, the Common Nighthawk and the more elusive Common Poorwill. The park is known for some of its interesting breeding bird species and the Poorwill is one of the more unusual. We will walk up the park road for a mile or so at dusk to check out some of the arid country daytime species such as Mountain Bluebirds, Spotted Towhees and Rock Wrens. Once it gets dark we will look for high flying  Nighthawks and low flying Poorwills with the possibility for some owls and several bat species as well. Insect repellent, good walking shoes and layering clothing for changing conditions are recommended.  Meet at the lower Visitor Center parking lot at 7:30 PM.   15 person limit
➢ June 25, Saturday: Cherry River and Middle Cottonwood
Leader: Brad Barth 406-640-2628 or barth.brad@gmail.com   (4-5 hours; moderate walking with some rocky terrain; 2-3 miles total)

On this walk we will travel to two different habitat types looking for diversity.  First we will travel to Cherry River looking for species such as Sora, several duck species, Yellow-headed Blackbirds,  kingbirds, Yellow Warblers and more.  Cherry River is more open country with Riparian habitat along the East Gallatin.  Then we will drive to the Middle Cottonwood Trailhead to look for species such as Western Tanager, MacGillivray's Warbler, Calliope Hummingbird, Lazuli Bunting, Green-tailed Towhee, Swainson's Thrush.  Middle Cottonwood has a mix of riparian habitat, mature north facing conifers, and relatively dry open south facing hillside.  We hope that these two locations will provide an interesting mix of species without having to travel a great distance from Bozeman.   12 person limit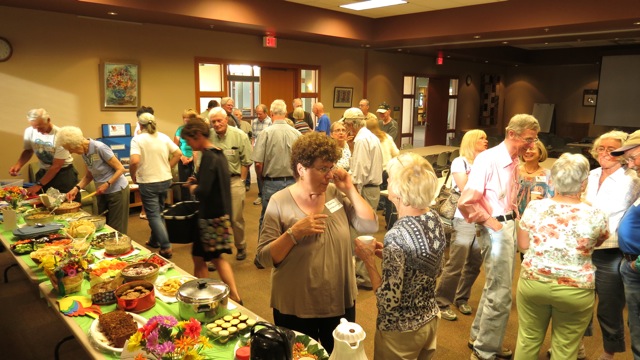 Come join the annual Sacajawea Audubon Society Sweet & Savory social and Annual Meeting on Monday, May 9th.  The meeting will include the Sweet and Savory social and potluck, and features 4 short presentations by SAS members on some of our conservation programs, followed by board elections. Please bring a sweet or savory dish to share. For more info, contact Lou Ann Harris at 600-3585 or email montlou311@gmail.com
The social and potluck will start at 6 p.m. with a short meeting followed by the program at 7 p.m.
Everyone is welcome to join SAS and share their interest in birding and conservation. The Sacajawea Audubon Society meets the second Monday of the month (September through May) at 7:00 p.m., at the Hope Lutheran Church, 2152 W. Graf Street (off of South 19th) in Bozeman. We invite the public to attend our meetings and participate in our field trips.