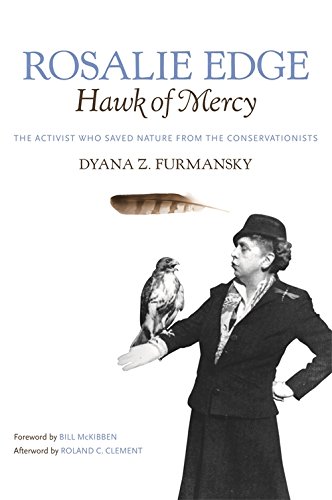 SAS Book Group's Next Book: Rosalie Edge: Hawk of Mercy, the Activist Who Saved Conservation from the Conservationists
It's time to start thinking about our next book, a biography of Rosalie Edge, described as "the first American woman to achieve national renown as a conservationist."  Among her other accomplishments, she established the Hawk Mountain Sanctuary in Pennsylvania, the first preserve for birds of prey, and the Emergency Conservation Committee, described by the author Dyana Z. Furmansky, as the "most militant nature advocacy organization of its time." I had not heard about Rosalie Edge before a Montana birder suggested her biography as a "must read" book.  I am looking forward to reading and discussing the story of her life, times, and influence.
We will discuss Rosalie Edge, Hawk of Mercy, on December 3, so it's not too early to plan your reading. If you want to attend the book group discussion and are not yet on the book group mailing list, please let me know.
Adele Pittendrigh: (adele.pittendrigh@gmail.com)