The Audubon Bird Guide is the must-have app for anyone interested in birds. This award-winning app instantly turns your mobile device into the most trusted field guide in North America.
821 in-depth species profiles
More than 3,200 bird photos
Quick bird IDs with filters by shape, region and color
Thousands of bird calls, differentiated by region and season
Seasonal and migratory range maps
Recent local bird sightings through eBird
Sightings posted by Audubon NatureShare friends and followers
So what are you waiting for? Download the Audubon Bird Guide and get birding!
Five easy tips for getting the most out of your Audubon Bird Guide app

1. What birds are in your area?
Traditional field guides can help you find birds based on habitat, but the Audubon Bird Guide finds them through real-time reports from thousands of people. Simply select your location in the "Find Birds with eBird" section. The most recent species observations in your area will be at your fingertips.
2. How can I figure out what that bird outside my window is?
Under "Explore Birds," the Advanced Search option is the best way to identify a completely unknown bird. And it sure beats flipping through every page of a paper field guide. Select your location and month, then fill in whatever other details you have on size, shape, color, habitat, etc.. The app will present you with a list of the most likely birds matching your description.
3. Want to dive deep into your favorite species?
Apps manage to pack more information into every part of the field guide experience. The species description section in the Audubon Bird Guide app is no exception. Explore detailed information on habitat, behavior, and nesting that can not only help you find birds more easily, but also better appreciate them and understand their behavior.
4. What's that sound?
Bird songs and calls vary regionally and the Audubon Bird Guide provides recordings to show you the regional and individual variations of bird vocalizations. With thousands to listen to, you can become an expert in the nuanced bird calls all around you.
5. Who else spotted that amazing bird? 
Audubon's NatureShare feature allows you to share your wildlife observations with others straight from the Audubon Bird Guide. Select a location, upload a photo, and add your comments to share with your friends. Also browse their posts to enjoy the natural world from the comfort of your home, or to get ideas where to explore next.
Share Your Love of Birds

Now that you have discovered the many awesome features that the Audubon Bird Guide has to offer, there is no better time to share your love of birds by telling others about the app.
The must-have field guide for FREE? Your friends will thank you, trust us.
Share the Audubon Bird Guide: Facebook or Twitter
Birding from home with your Audubon app [can link to other articles on your website]
We're sure your birdwatching experiences have been improved by your new Audubon Bird Guide app. But why stop there? Here are more tips and activities for the bird lover in you.
Attract more birds to your home
Sometimes the easiest way to see birds is the best way. Your home has the potential to welcome all kinds of feathered friends and with these simple steps, it can.
Hang a bird feeder, or many, with a diverse mix of seeds to attract the greatest variety of birds. Placement is key; table-like feeders can attract ground-feeding birds, while tube and suet feeders are best for shrub and tree eaters. Locating feeders within three feet of windows can protect birds from collisions and set you up for up-close viewing.
Grow a few bird-friendly plants—plants that naturally grow in your area are great for birds and other wildlife. Even one native tree can create a more attractive and healthy sanctuary for birds, both resident and migratory.
Add water to your backyard habitat so that birds can drink, bathe, and preen to their hearts' content. The sound of moving water is a bird magnet so try to incorporate some kind of fountain or drip.
Take easy and beautiful bird photos
Whether it soars into your bird-friendly yard or perches high atop a tree in your favorite birding spot, spotting a beautiful bird is a remarkable feeling. Photography is the perfect way to capture this moment. You already have your phone out and, with these tips, you can snap some great bird shots straight from your device.
First and foremost, clean your lens. Phones are sometimes put through the ringer, particularly on outdoor birding trips. A quick swipe with a lens cleaner or even your t-shirt can eliminate dreaded photo blemishes.
Prepare for action. Birds in flight are difficult but worthwhile photo opportunities. Capture the action using burst mode by holding down the shutter.
Don't forget to check exposure. Whether due to outdoor lighting or birds moving from light to dark backgrounds, testing exposure regularly is key to your shot. On the iPhone, tapping on the screen and adjusting the slider to brighten or darken is an easy fix.
Joining Citizen Science Programs

With the Audubon Bird Guide app, you're already finding birds, and maybe even sharing your sightings through Audubon's NatureShare. It doesn't take much more than that to join in Audubon's crowdsourced science projects.
For more than a century, we have relied upon tens of thousands of passionate birders such as yourself to participate in our annual bird counting programs. By simply adding your bird sightings to eBird, you can be a part of shaping our conservation efforts.
Join Audubon's crowdsourced science projects.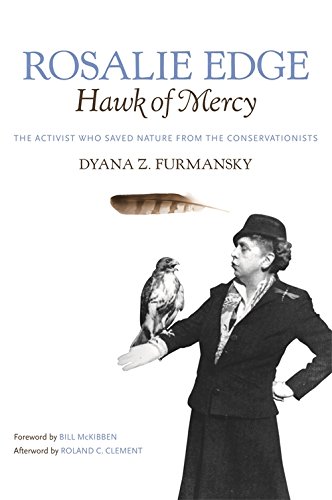 SAS Book Group's Next Book: Rosalie Edge: Hawk of Mercy, the Activist Who Saved Conservation from the Conservationists
It's time to start thinking about our next book, a biography of Rosalie Edge, described as "the first American woman to achieve national renown as a conservationist."  Among her other accomplishments, she established the Hawk Mountain Sanctuary in Pennsylvania, the first preserve for birds of prey, and the Emergency Conservation Committee, described by the author Dyana Z. Furmansky, as the "most militant nature advocacy organization of its time." I had not heard about Rosalie Edge before a Montana birder suggested her biography as a "must read" book.  I am looking forward to reading and discussing the story of her life, times, and influence.
We will discuss Rosalie Edge, Hawk of Mercy, on December 3, so it's not too early to plan your reading. If you want to attend the book group discussion and are not yet on the book group mailing list, please let me know.
Adele Pittendrigh: (adele.pittendrigh@gmail.com)
Join Sacajawea Audubon for "The Birds of Yellowstone" presented by Doug Smith, YNP Senior Wildlife Biologist for the wolf, bird and elk programs. Doug's talk will highlight two different projects and the issues facing YNP area songbirds, raptors, trumpeter swans, common loons and colonial nesting birds. The program is free and open to the public.  The social begins at 6:30 p.m. and the program starts at 7 p.m. at Hope Lutheran Church, 2152 West Graf (off of S. 19th).
Doug Smith PhD is a Senior Wildlife Biologist in Yellowstone National Park. He supervises the wolf, bird and elk programs – formerly three jobs now combined into one under Doug's supervision. His original job was the Project Leader for the Yellowstone Wolf Project which involved the reintroduction and restoration of wolves to Yellowstone National Park. He helped establish this project and position. Doug received a B.S. degree in Wildlife Biology from the University of Idaho in 1985. He has published a wide variety of journal articles and book chapters on beavers, wolves, and birds and co-authored two popular books on wolves (The Wolves of Yellowstone & Decade of the Wolf which won the 2005 Montana book award for best book published in Montana) as well as publishing numerous popular articles. A third book, Wolves on the Hunt, is due out in May 2015.  His professional interests include wolf population dynamics, wolf-prey relationships, restoration of ecological processes, raptor conservation, and beaver population dynamics.  He is a member of the Mexican Wolf Recovery Team, the Re-Introduction Specialist Group, and Canid Specialist Group for the IUCN. Besides wolves, birds and beavers, he is an avid canoeist preferring to travel mostly in the remote regions of northern Canada with his wife Christine and their two sons Sawyer and Hawken.