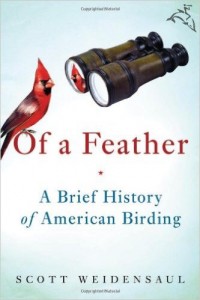 The SAS Book Group will meet on September 14 at 6:30, right before the SAS program, to discuss the book group's plans for 2015-16. We hope to accommodate a core group of participants as well as folks who want to attend discussions occasionally.
The proposed schedule and reading list includes six books, with discussions roughly six weeks apart on 1st or 3rd Thursdays from 5:30-6:45:
(Oct. 15) Living on the Wind: Across the Hemisphere With Migratory Birds. Scott Weidensaul. This will be our second discussion of Living on the Wind, with emphasis on the last two-thirds of the book.
(Dec. 3) Rosalie Edge, Hawk of Mercy: The Activist Who Saved Nature from the Conservationists. Dyana Z. Furmansky.
(Jan. 21) Of a Feather: A Brief History of American Birding. Scott Weidensaul.
(Mar. 3) Life List: A Woman's Quest for the World's Most Amazing Birds. Olivia Gentile.
(Apr 21) Subirdia: Sharing Our Neighborhoods with Wrens, Robins, Woodpeckers, and other Wildlife. John Marzluff.
(June 2) Adventures in the Anthropocene, A Journey to the Heart of the Planet We Made. Gaia Vince.
We are excited about reading and discussing these books and invite everyone to get involved. The location will be announced in September. Please contact members of the steering committee for more information and to express interest and ideas for the book group. Adele Pittendrigh, 406-587-7710 adele.pittendrigh@gmail.com; Karin Jennings, 406-600-6563 karin.jennings@gmail.com; Karin Utzinger 406-586-1604, klutzinger@yahoo.com.