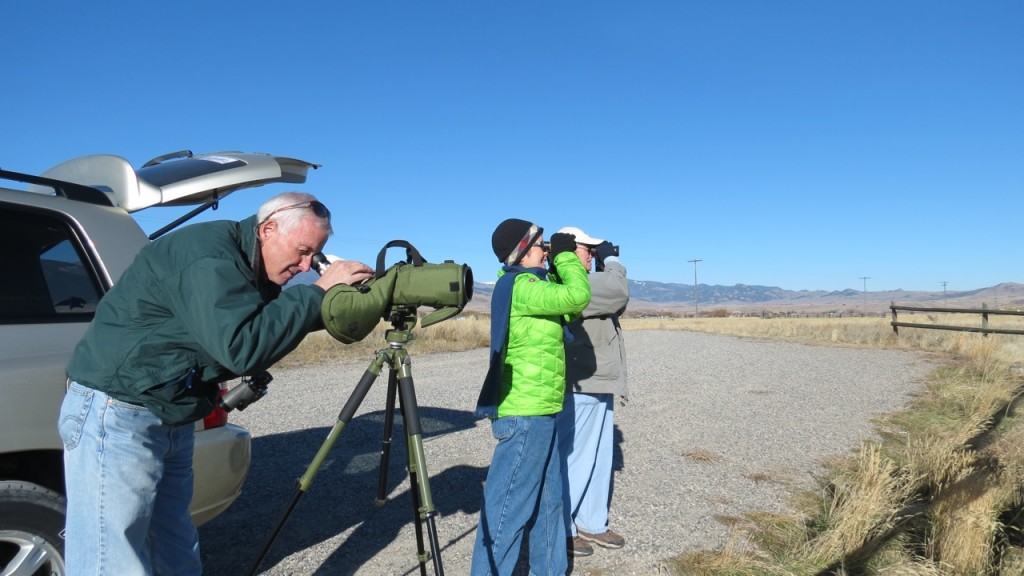 Madison Valley IBA Bird Survey – October 17th
The birds are on the move again with Ennis Lake serving as an important stopover for large numbers of migrating waterfowl, loons and grebes.  Also, the first returning Rough-legged Hawks have been sighted and you never know what else we may find in the Madison Valley.  Last year's treat was a Harris Sparrow.   On October 17th (Saturday) we will conduct one last survey of the Madison Valley IBA and its always a fun time to put your bird watching skills to a good use.
If you can help, email Paulette at bigskyepples@msn.com or call 580-6186.  We will meet at the Ennis Pharmacy Café in Ennis by 7:45 am.  Come early if you would like to eat breakfast there.  We should be finished by early afternoon.
Join Sacajawea Audubon for our October program, "Flights on the Wild Side - The Life and Times of a Wildlife Biologist/Pilot in Alaska", presented by SAS Board member, Mike Vivion.  Mike will discuss the areas where he worked and flew, as well as some of the changes that took place during his 34 year career with the Fish & Wildlife Refuge Division.
Mike Vivion is a retired Wildlife Biologist/Airplane Pilot who worked on several National Wildlife Refuges over the course of his career.  Twenty nine years of that career were spent in Alaska, where he was stationed on the Izembek, Kodiak and Yukon Flats National Wildlife Refuges.  Aerial census and research projects took him to all the other refuges in Alaska.  He retired from the FWS in 2005 and taught at the University of Minnesota, Crookston for seven years.  He and his wife Gina, a retired elementary school teacher, moved to Bozeman in 2013 and are happily retired.
Sacajawea Audubon Society meets every 2nd Monday of the month, Sept. through May at Hope Lutheran Church, 2152 West Graf.  Social time starts at 6:30 p.m. with the meeting beginning at 7:00 p.m. Sacajawea Audubon programs are free and open to the public.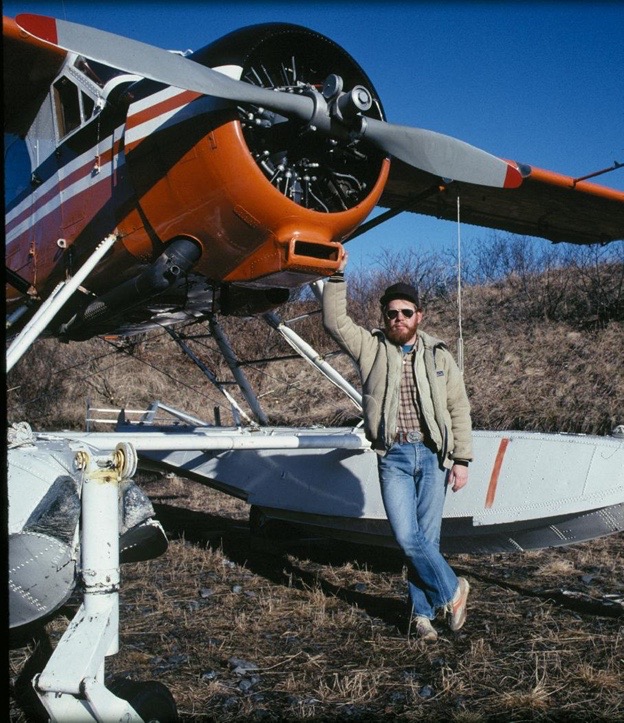 It's time for the 19th Annual Bridger Raptor Festival, October 2nd, 3rd & 4th at Bridger Bowl!  Sacajawea Audubon is again co-hosting and will be offering several fun children's activities.
Friday night kicks off at the Museum of the Rockies with keynote speaker, Kate Davis, founder of Raptors of the Rockies. Kate's presentation will feature four live birds including a Golden Eagle named Nigel!  Saturday and Sunday's events begin at 10 a.m. at both Saddle Peak and Jim Bridger Lodge at Bridger Bowl.  There will be LOTS of family activities including: Build a Bird House, Binocular Target Blitz, Face Painting, Nature Journaling, Sketch a Bird, Raptor ID with Steve Hoffman, Wildlife Olympics, interpretive walks with MOSS, and live raptor presentations.   There will be an up-to-date raptor count board at the Montana Audubon/Sacajawea Audubon booth for you to see what birds are being seen up at the Bridger Hawk Count site. Bridger Raptor Fest is FREE and a great family-friendly, community event.  So grab the kids & grandkids, (but please no dogs) and come up to Bridger Raptor Fest!
For more information and festival schedule, go to: www.bridgerraptorfest.org/current_events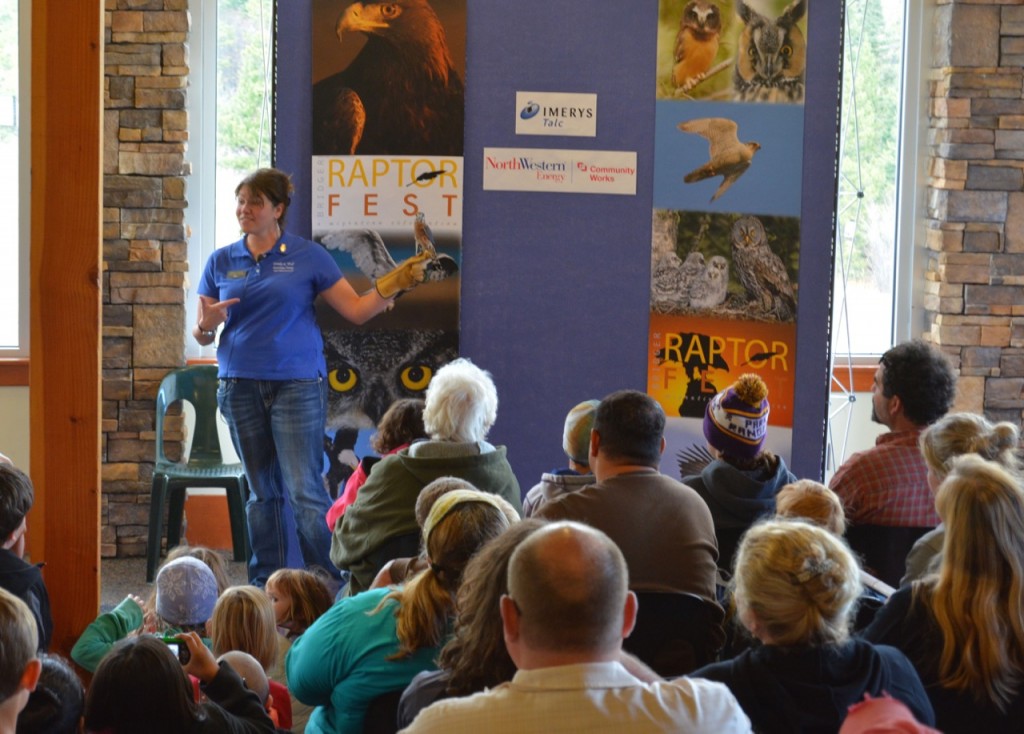 We kick off our our new year of programs with a not-to-be-missed presentation by Dan Casey.
Montana bird conservation efforts have matured in many ways over the past three decades. Priorities have been established, partnerships formed, and opportunities for birders to engage in data collection and conservation action continue to increase. With new monitoring efforts, eBird, Montana Online Birders (MOB), and the upcoming "Birds of Montana" we have access to more information than ever before about our birds and their habitats. This presentation will provide examples of (and anecdotes from) this evolution, drawing from Dan's experiences with joint ventures, Christmas Bird Counts, Jewel Basin Hawk Watch, eBird, and more. In addition to enjoying photos of Montana's birds and habitats, the presentation is intended to inspire attendees to play a personal role in "citizen science" birding to help advance bird conservation.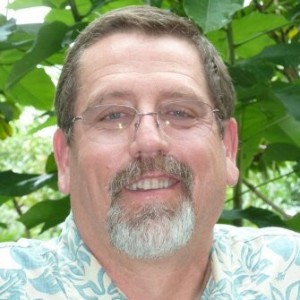 Dan Casey has been a fixture in Montana's ornithological community for nearly 35 years. He was the primary author of the 2000 Montana Bird Conservation Plan, and received Montana Audubon's Conservationist of the Year Award in 2006. He served 25 years as the regional editor for Montana CBCs, is a member and past Chair of the Montana Bird Records Committee, a moderator of the MOB Yahoo site, regional eBird reviewer, and co-author of the upcoming "Birds of Montana". He has worked for Montana Fish, Wildlife and Parks (16 yrs.), American Bird Conservancy (15 yrs.), and now for Ducks Unlimited as the Northern Great Plains Joint Venture Coordinator based in Billings.
The Sacajawea Audubon Society meets the second Monday of the month (September through May) at 7:00 p.m., at the Hope Lutheran Church, 2152 W. Graf Street (off of South 19th) in Bozeman. We invite the public to attend our meetings and participate in our field trips.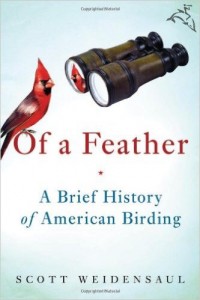 The SAS Book Group will meet on September 14 at 6:30, right before the SAS program, to discuss the book group's plans for 2015-16. We hope to accommodate a core group of participants as well as folks who want to attend discussions occasionally.
The proposed schedule and reading list includes six books, with discussions roughly six weeks apart on 1st or 3rd Thursdays from 5:30-6:45:
(Oct. 15) Living on the Wind: Across the Hemisphere With Migratory Birds. Scott Weidensaul. This will be our second discussion of Living on the Wind, with emphasis on the last two-thirds of the book.
(Dec. 3) Rosalie Edge, Hawk of Mercy: The Activist Who Saved Nature from the Conservationists. Dyana Z. Furmansky.
(Jan. 21) Of a Feather: A Brief History of American Birding. Scott Weidensaul.
(Mar. 3) Life List: A Woman's Quest for the World's Most Amazing Birds. Olivia Gentile.
(Apr 21) Subirdia: Sharing Our Neighborhoods with Wrens, Robins, Woodpeckers, and other Wildlife. John Marzluff.
(June 2) Adventures in the Anthropocene, A Journey to the Heart of the Planet We Made. Gaia Vince.
We are excited about reading and discussing these books and invite everyone to get involved. The location will be announced in September. Please contact members of the steering committee for more information and to express interest and ideas for the book group. Adele Pittendrigh, 406-587-7710 adele.pittendrigh@gmail.com; Karin Jennings, 406-600-6563 karin.jennings@gmail.com; Karin Utzinger 406-586-1604, klutzinger@yahoo.com.
The Sagebrush Sea, Movie Screening & Panel Discussion
 When: Tuesday, Sept. 15th at 6:30 p.m.
Where: Emerson Crawford Theater
It's been called "The Big Empty" – an immense sea of sagebrush that once stretched 500,000 square miles across North America, yet it's far from empty, as those who look closely will discover. The new nature documentary by the acclaimed Cornell Lab of Ornithology, The Sagebrush Sea, follows the Greater Sage-grouse -- an increasingly rare bird with an otherworldly mating display -- through a year on the steppe. This stunning movie captures the rich and complicated interactions between species amongst the sagebrush.
Witness rarely observed moments in the lives of some of the West's most iconic wildlife - including Golden Eagles, mule deer, pronghorn, badgers, and hawks. This documentary comes at a pivotal time as our state and nation determine the future of this landscape and the wildlife that are dependent on it.
Having recently premiered on the award-winning PBS NATURE series, the public is invited to enjoy this nature documentary on the big screen. Afterwards, take part in a conversation about our iconic Western landscape and hear from people on the forefront of what The New York Times is calling, "One of the great conservation efforts of this century."
Panelists include:
▪️Marc Dantzker – Former Biologist/Producer of The Sagebrush Sea, Cornell Lab of Ornithology
▪️Dr. Steve Knick – Researcher, U.S. Geological Survey (USGS)
▪️Dave Chadwick - Executive Director, Montana Wildlife Federation (MWF)
▪️Janet Ellis - Senior Director of Public Policy, Montana Audubon
The social hour begins at 5:30 p.m. with free beverages and snacks.  The film starts at 6:40 p.m. with the panel discussion following.
Fall Migration Field Trip
This trip is FULL.
Saturday, September 12, 2015
Trip Leader: Robin Wolcott 406-581-5418 pajaros@wewolcotts.com
Meet at 7:45 am at the Museum of the Rockies. Carpool and leave at 8 am.
September is the peak of fall migration with an amazing diversity of birds passing through Montana. This field trip will take advantage of the many birding opportunities in the Headwaters State Park and Three Forks area. The trip will last until early afternoon but let's be prepared for anything. Bring a lunch. Bring a scope if you have one. Bring your enthusiasm and your flexibility.
To reserve a spot on the trip or for more information please contact the trip leader.