Annual Meeting and Sweet & Savory Social
Come join the annual Sacajawea Audubon Society Sweet & Savory social and Annual Meeting. Everyone is welcome to join SAS and share their interest in birding and conservation. The meeting will include the Sweet and Savory social and potluck, and features a program by Eli Kutsch on "Operation Osprey". Fourteen year old Eli took his love of raptors to a new level by completing a project to install an osprey nesting platform at East Gallatin Recreation Area. Please bring a sweet or savory dish to share. For more info, contact Diane Gresham, Hospitality Chair at 406-600-4801 or email dgresham@bresnan.net.
The social and potluck will start at 6 p.m. with a short meeting followed by the program at 7 p.m.
The Sacajawea Audubon Society meets the second Monday of the month (September through May) at 7:00 p.m., at the Hope Lutheran Church, 2152 W. Graf Street (off of South 19th) in Bozeman. We invite the public to attend our meetings and participate in our field trips.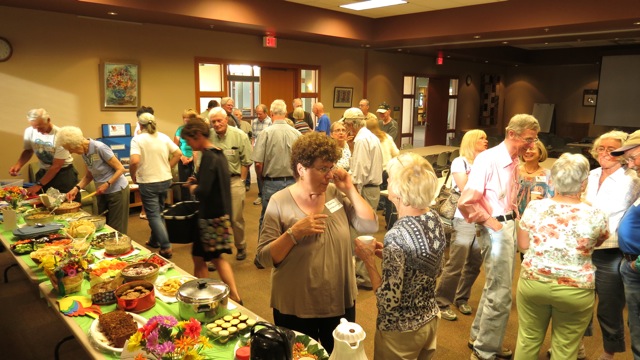 ➢May 16: Old Town Road and Milligan Canyon
Leader: Tom Forwood 570-6432 fwptforwood@gmail.com
(1/2 day trip; mostly driving with light walking on roads)
This trip begins along the cottonwood bottomlands of the Jefferson River, and then abruptly moves into dry greasewood/sage scrubland habitat. Birds along this section will range from Dusky Flycatchers and Bullock's Orioles, to Sage Thrashers and Brewer's Sparrows. The route then cuts through the arid limestone cliffs of Milligan Canyon. Canyon Wrens, Rock Wrens, and Spotted Towhees frequent this dry landscape. Golden Eagles and Pinyon Jays are also a possibility along this portion of the trip. 15 person limit
 Participants in all trips will meet at the front parking lot of the Museum of the Rockies at 6:45 AM and depart at 7:00 AM unless otherwise noted. Car pools will be arranged at the museum; an offer to help with gas to the person driving is always appreciated but not mandatory. Dress for the weather; good footwear is a must as field trip conditions are not always dry. Turn off your cell phones and keep unnecessary conversations to a minimum. Some field trips are limited to a certain number of participants. Contact the trip leader for more details about any trip, and to sign up for the trip. We encourage beginning birders to participate. Come have a good time and learn something new.
Contact John Parker 586-5863 birdsightings@sacajaweaaudubon.org
Meet at the Museum of the Rockies at 7:30 AM, for this full day trip.
The location and direction will be determined at the time of the trip. We will visit one of this area's larger reservoirs as the primary destination of the day. This date is between the peak of the waterfowl and songbird migrations, so the focus of the trip will be on both water birds and early passerines. Bring lunch, snacks, drinks, and bring appropriate clothing as this will be an all day adventure. Limit 12 people.
Join worldclass raptor specialist, Sergio Seipke, for his presentation 'Hawkwatching Around The World'. He will share photographs and insights about raptors, their ecology and conservation gained during his recent (2012-2015) raptor tours to Argentina, Brazil, Chile, Mexico, Nepal, Spain, Thailand, and South Africa. Enjoy a vicarious world birding tour with the BEST!
Sergio Seipke is from Argentina. He became fascinated with raptors in 1993 and has traveled extensively ever since to watch, study, and photograph birds of prey in 15 countries. He owns the company Raptours through which he leads international tours to view raptors. His book Raptors of South America will soon be published. Copies of Raptours 2015/2016 will be available.
Sacajawea Audubon Society meets every 2nd Monday of the month, Sept. through May at Hope Lutheran Church, 2152 West Graf.  Meetings start at 7:00 p.m. and are free and open to the public.