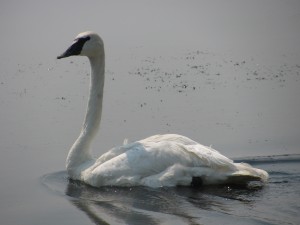 This month, please join Sacajawea Audubon as we welcome Claire Gower from MT Fish Wildlife and Parks, and Tom Hinz of Ecolegacy Consulting for a presentation on building community support for wetland conservation in the Madison Valley.
This presentation will describe a decade long wetland restoration project in the Madison Valley, SW Montana; the success of which provided an opportunity to initiate Trumpeter swan restoration efforts which started in 2012. The goal of this work is to restore nesting pairs to the valley and the greater Tri-state area. At the end there will be a few slides to describe swans of Montana.
Sacajawea Audubon Society meets every 2nd Monday of the month, Sept. through May at Hope Lutheran Church, 2152 West Graf.  Meetings start at 7:00 p.m. and are free and open to the public.

Do you need some help getting started with eBird?  Are you wondering what eBird is all about?  Join Sacajawea Audubon to learn about this valuable citizen-science database and start entering your bird observations online!  eBirders Lou Ann Harris and Paulette Epple will answer questions and get you started. This workshop will be held Jan. 22nd, 6:30 p.m. at Bozeman Public Library - Small Conference Room.
Bring a wi-fi capable laptop computer or tablet (or use one of ours) and a couple of bird sighting lists that you want to enter.  Go birding and write down all the birds you see at a certain place - your backyard, a favorite birding spot, or on a short walk.  Record the time you started birding, the ending time, and of course the location.  We will help you learn to post your sightings, keep life lists, and explore the data on eBird.  This is a free class but a reservation is required.  Contact Paulette Epple to register at sec@sacajaweaaudubon.org or call 580-6186.

Through the heart of the frozen north, roams a creature with a mystique as old as the mountains and a reputation as big as all outdoors:  Wolverine.  The name alone conjures an image of a savage,  solitary killer who crushes bones to powder with powerful jaws.  But peel back the layers of legend and you'll find a remarkable animal - far more vulnerable than villainous, with a fierce appetite for survival .... and for surprise.
Join Wildlife Filmmaker and Professor, Gianna Savoie on Jan. 12th, for a glimpse into the secretive world of this mysterious carnivore through a special screening and presentation of her Emmy nominated film.  In 2010, Gianna wrote and produced, Wolverine: Chasing the Phantom for the PBS series, NATURE.  She is an award-winning Natural History filmmaker with a passion for the environment that drives her to sink her teeth into some of the most critical conservation issues on the planet.  Trained as a scientist, with a Master's degree in Environmental Biology, she pairs her love of science with the art of filmmaking to craft stories that not only inform, but resonate.  Her work has been featured on PBS, National Geographic, Discovery, the BBC, and Animal Planet.  Her previous film, Life in Death Valley, received over a dozen awards, including "Best Film About an Ecosystem" from the International Wildlife Film Festival.  She is currently writing and story-producing, Our Blue Canoe, a documentary about the plight of the Pacific Ocean.
Sacajawea Audubon meets every 2nd Monday of the month, September through May, at Hope Lutheran Church. Programs begin at 7 p.m. and are free and open to the public.