Nothing could be finer to a birder than a Dusky Grouse against a backdrop of fall color.  Paul Gore has been working on improving habitat on his property and says it's now paying off.  Yard visitors include a covey of Gray Partridge and this beautiful Dusky Grouse.  Enjoy!
Presented by: 
Hawkwatch International Founder, Steve Hoffman, and field researchers Bret Davis & Mikaela Howie
Monday November 10th, 2014 at 7:00 p.m.
Hope Lutheran Church, 2152 W. Graf Street (off of South 19th) in Bozeman
The Bridger Ridge provides viewing of the largest Golden Eagle migration known in the lower 48 states. Recent Golden Eagle count totals have varied from 1,000 to 1,400 eagles per season, with up to 200 individuals tallied on peak migration days (usually during the first two weeks of October). Data obtained over the last 24 years has provided scientists with valuable information about trends in raptor populations. Bret and Mikaela will show lots of amazing photos of raptors while summarizing the latest project findings. They will also share many memorable experiences while scanning for migrating raptors atop of Bridger Bowl for more than two months!
Thanks to the generous support of Sacajawea Audubon Society and others, September 1st marked the start of the 24th consecutive season of raptor migration research along the crest of the Bridger Mountains. Montana Audubon, in partnership with HawkWatch International (HWI), has coordinated this scientific project for the past 6 seasons. HWI initiated these annual counts in 1991.
These majestic birds use the energy-saving updrafts created by strong winds along the crest of the Bridgers to migrate south. The long-term data collected at the Bridger site helps scientists learn about regional and continental raptor population trends. Most importantly, the Bridger project is designed to monitor widespread environmental changes, using these apex predators as valuable barometers of ecological health.
Steve Hoffman, Executive Director of Montana Audubon, emphasizes: "The Bridger Project is the most important migration site in the western United States for monitoring the health and trends of Golden Eagle populations.  The Bridger data are especially important now because there is scientific evidence for long-term declines in Golden Eagle numbers across much of western North America. As a result, the U.S. Fish & Wildlife Service and other wildlife conservation agencies are intensifying research efforts to learn more about Golden Eagles and what might be causing this downward trend."
Be one of 2 winners of a 2014/2015 Bridger Bowl Season Pass (value of $699).  Sacajawea Audubon and Montana Audubon are raffling off two Bridger Bowl ski passes.  The proceeds support the Bridger Mountains Raptor Count, which features the largest known concentration of fall migrating Golden Eagles in the lower 48.
Raffle tickets are $10 each or 6 for $50.  The drawing will be held Nov. 10, 2014 at the Sacajawea Audubon monthly program, which begins at 7 p.m. at Hope Lutheran Church.
To purchase a raffle ticket and help support this important research project in our own backyard, email: raptorraffle@sacajaweaaudubon.org.
Saturday, October 25th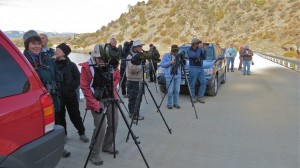 Meet at 7:45 am at the Museum of the Rockies
Carpool and depart at 8:00 am
This should be near the peak time for migrating waterfowl. Ennis Lake is one of the premiere staging areas for migrating waterfowl in southwestern Montana. Thousands of ducks can be spread across the lake on any given day. As is typical with high concentrations of birds, there is always the possibility of a rarity being found. Bring a lunch as we'll be out until at least mid-afternoon. Also, remember to bring plenty of warm clothes as it will likely be cold and windy. For more information and to make reservations, call John Parker at 586-5863.
Please join us on October 18th (Saturday) as we conduct one last survey of the Madison Valley IBA. We are timing this survey to catch large numbers of migrating waterfowl, loons and grebes on Ennis Lake and of course we will be surveying the riparian area of the Madison River Valley also. Join us and use your bird watching skills to add to our data base on this Important Bird Area. Please meet at the Ennis Pharmacy Café before 8 am. Come early enough (7:15 am) for breakfast if you want, but plan to be ready to head out for birding at 8 am.
Please let Paulette Epple know if you are going to be able to help out with the count. Phone: 580-6186 or email: bigskyepples@msn.com.
Join us Oct. 13th for a presentation by Montana Audubon's Amy Cilimburg about the recently released "Audubon Report" on birds imperiled by climate change.  Over the past seven years, Audubon's team has analyzed more than 30 years of bird observations from the North American Breeding Bird Survey, Audubon's Christmas Bird Count, and data from leading climatologists in the US and Canada. This assessment gives us an unprecedented ability to project where birds are most likely — and unlikely — to survive in the future. We'll look at the future of swans, curlews, chickadees, hummingbirds, and more. And we'll circle around to the status of climate change solutions. Much can be done locally for bird conservation—to create a better future for all. Finally, Amy will update attendees on a handful of other Montana Audubon priorities, including the current status of Greater Sage-Grouse conservation.
Amy Cilimburg is the Director of Bird Conservation and Climate Policy for Montana Audubon, where she works to educate and inspire action around issues related to climate change, birds, wildlife, and energy both here in Montana and nationally. She spearheads the Important Bird Areas (IBA) Program in Montana and collaborates with others to protect Montana's birds and their habitat. Prior to coming to Audubon, Amy was the Assistant Director of the University of Montana's Avian Science Center. She has a M. S. in Wildlife Biology from the University of Montana. She lives and strives to reduce her carbon footprint in Missoula with her husband and daughter.
Sacajawea Audubon Society meets the second Monday of the month (September through May) at 7:00 p.m., at the Hope Lutheran Church, 2152 W. Graf Street (off of South 19th) in Bozeman. We invite the public to attend our meetings and participate in our field trips.
Missouri Headwaters State Park – Trident Extension Trail
Master Planning Workshop
Oct. 14th at 6:30 p.m., MT Fish, Wildlife & Parks , 1400 S. 19th
Come be a part of the creation of a new trail at Missouri Headwaters State Park. This trail will start at the boat-ramp parking lot at Missouri Headwaters State Park and continue eastward onto Holcim Inc. property towards the old town site of Trident. The trail will parallel the Missouri River and provide excellent viewing of the limestone cliffs where Peregrine Falcons, Prairie Falcons and Great Horned Owls have been found nesting in the past. The trail will also provide opportunities to view water birds, such as Double-crested Cormorants, on the river's gravel bars, and numerous song and grassland birds, such as Lark Sparrow.
To help design the trail Sacajawea Audubon Society has teamed up with the Montana State University-Landscape Design Studio, and we would like to invite you to participate in a master planning workshop. During the workshop students will present a contextual project overview. This will be followed by a gathering of input and ideas from workshop attendees.
So bring your memories, experiences and ideas to the workshop and help create a vision for the new trail!
Tuesday, October 14, 2014
Join us from 6:30-8:00 pm
Montana Fish Wildlife and Parks, Headquarters: 1400 South 19th Avenue