Fall Migration Field Trip
Saturday, September 6, 2014
Trip Leader: Robin Wolcott 406-581-5418
Meet at 7:45 am at the Museum of the Rockies. Carpool and leave at 8 am.
September is the peak of fall migration with an amazing diversity of birds passing through Montana. This field trip will take advantage of the many birding opportunities in the Headwaters State Park and Three Forks area. The trip will last until early afternoon but let's be prepared for anything. Bring a lunch. Bring a scope if you have one. Bring your enthusiasm and your flexibility.
To reserve a spot on the trip or for more information contact the trip leader.
Join Sacajawea Audubon Monday, September 8th at 7 p.m. as we begin a new season of educational and fun monthly programs.
Birds are compelling for reasons beyond their beauty, amazing flight, and fascinating behaviors. They inspire myths and stories that instruct, amuse, and intrigue us.
Jim Garry is one of those special people who has studied the folklore of many cultures, experienced the natural world deeply, especially the Greater Yellowstone Ecosystem, and weaves that knowledge into spellbinding stories. Come join us as we learn about the multi-faceted raven.
Sacajawea Audubon Society meets the second Monday of the month (September through May) at 7:00 p.m., at the Hope Lutheran Church, 2152 W. Graf Street (off of South 19th) in Bozeman. We invite the public to attend our meetings and participate in our field trips.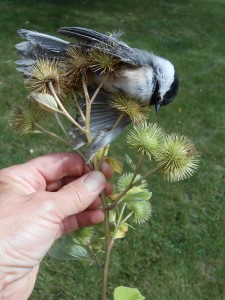 Volunteers needed to help in the "War on Burdock!"
Sacajawea Audubon is working in August to eradicate burdock from some of our favorite trails.  This nasty introduced plant has Velcro-like seed heads that entrap songbirds, slowly causing their deaths .  You may know burdock from brushing against it and getting the burs caught in your hair, your clothes, or your dog's fur.  Lucky for us this plant is a biennial and so it is possible to gain control of it without the use of chemicals.  If we can keep a stand of burdock from setting seed by clipping off the seed heads early, it will eventually die out.
Hard working, determined Sacajawea Audubon volunteers have been removing burdock from East Gallatin Recreation Area, the 'M' Trailhead, Drinking Horse Mountain Trail, Sourdough Trail, Gallagator Trail, and other areas around Bozeman. So far we have hauled out over 25 thirty gallon bags of nasty burs filled with seeds! Two new work days have been set. Join us if you can at any of these dates and locations:
Aug. 26th - Bozeman Fish Technology Center (drive in and park at the bottom of the hill)
Aug. 27th -  The "M" Trailhead (another patch has been found)
We will meet each morning at 7:30 am.  Bring pruning clippers if you have them and wear gloves, long sleeves and long pants, all of fabrics that burs won't adhere to.  Plan to work for an hour or two.  Whatever time you can afford.  With your help, we will win this war!
Contact Paulette Epple  at  bigskyepples@msn.com    or   580-6186  for more information.