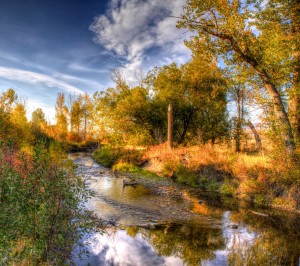 Wouldn't it be wonderful to have a new natural park in Bozeman dedicated to wildlife watching and wetlands conservation?
Join us January 13th at 7 pm to hear about the proposed Story Mill Community Park located on approximately 50 acres adjoining the old Story Mill in northeast Bozeman.  Maddy Pope, project manager with The Trust for Public Land, and Martha Collins, a Sacajawea Audubon member, will discuss this exciting planned park.   TPL is proposing to sell the land to the City to become the newest and largest community park using funding through the new Trails, Open Space and Parks bond fund.  The long-term vision for the new park would include both an active park area for public enjoyment and recreation and a protected nature sanctuary for wildlife and to serve as an outdoor classroom.  The property's wetland complex already supports a wide array of birds and other resident wildlife.  Highlights this past season have included nesting sandhill cranes, a family of great horned owls, kingfishers, dippers, snipe, and a plethora of nesting songbirds.  The project includes an ambitious restoration and monitoring project that would increase wetland acres and restore floodplain connections to provide habitat and water quality enhancements.
Over the past year, Sacagawea Audubon has gotten involved with TPL conducting bird surveys, putting up nesting boxes, and leading birding walks at the site.  Come learn more about this partnership and how you can help support this exciting project!
At Hope Lutheran Church, 2152 W. Graf Street (off of South 19th) in Bozeman.  Our programs are free and open to the public.
The Bozeman CBC was conducted on December 14th with no wind, and temperatures into the thirties, making for nearly ideal conditions on count day.  34 people participated in the count.  This year 65 species (the second highest total after last year's 70) were seen, plus three count week species.
Amazingly, 4 new species were added to the all time species list!  The new species added to the count were Tundra Swan, Ring-necked Duck, Virginia Rail, and Chipping Sparrow.  A total of 122 species have been seen on the Bozeman count.
Overall, there were record high counts for 10 species.  12,617 individual birds were seen during the count.  For a total summary, please click on the link below.
Come join the fun in one of our area's Christmas Bird Counts.  The Christmas counts, started in 1900, are an opportunity for beginning and expert birders to get together and enjoy this holiday tradition.
Bozeman                        Saturday, December 14th
Compiler:  John Parker 586-5863
Meet at Perkins Restaurant, 2505 West Main,
Bozeman, between 7:00-7:30AM
West Yellowstone            Sunday, December 15th
Compiler:  John Heinie (w) 646-7001 (h) (406)640-0124
Meet at the Grizzly and Wolf Discovery Center
West Yellowstone at 8:30 AM
Livingston                        Sunday, December 15th
Compiler:  Sally MacDonald 223-9167
or at smacbirder@msn.com
Meet at the Best Western Inn 1515 W Park St (Copper John's)
between 7:00-7:30 a.m.
Ennis                                    Wednesday, December 18th
Compiler:  Robin Wolcott 406-581-5418
Meet at Yesterday's Café in the Ennis Pharmacy,
By 7:30 AM or sooner for breakfast
Three Forks                        Thursday, December 26th
Compiler:  Dennis Flath 406-539-1145
Meet at Bair's Truck Stop (Flying J at the
South side of the Belgrade Interchange)
at 7:00 AM
For more information, contact the count compilers. Please Contact the area compiler before the count, as this will give them the opportunity to plan and organize the count before the count day.  Participation in all counts is free.
Some background on the Christmas Bird Count:
The first CBC was done on Christmas Day of 1900 as an alternative activity to an event called the "side hunt" where people chose sides, then went out and shot as many birds as they could. The group that came in with the largest number of dead birds won the event. Frank Chapman, a famed ornithologist at the American Museum of Natural History and the editor of Bird-Lore (which became the publication of the National Association of Audubon Societies when that organization formed in 1905) recognized that declining bird populations could not withstand wanton over-hunting, and proposed to count birds on Christmas Day rather than shoot them.
Audubon's Christmas Bird Count (CBC) is the longest running Citizen Science survey in the world. The CBC is an early-winter bird census, where volunteers count every bird they see or hear during one day in a designated 15-mile diameter circle. Count volunteers follow specified routes within the circle. It's not just a species tally—all birds are counted all day, giving an indication of the total number of birds in the circle that day. If observers live within a CBC circle, they may arrange in advance to count the birds at their feeders and submit those data to their compiler. All individual CBC's are conducted in the period from December 14 to January 5 (inclusive dates) each season, and each count is conducted in one calendar day
These counts have proven incredibly valuable for what they tell scientists -- and all of us -- about our changing world.