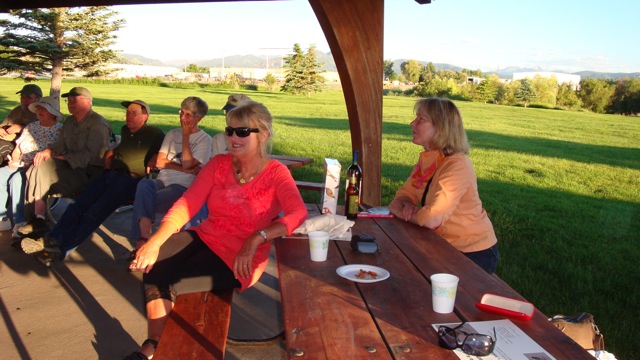 Sacajawea Audubon's 2013 Birdathon has been deemed a success!  Eight teams participated this year and raised more than $4,000 for the chapter.  A variety of strategies were used, including: a Big Sit at Dave & Jinnie Milne's, a Half-Day Birdathon by Evelyn Acton's team, a Birdathon limited to just Latilong 38 by John Parker's team, and a team whose members' names all included "ann" in some form.  The Birdathon Awards Party was well attended, and lots of delicious desserts and cold beverages were enjoyed by all. Several awards were handed out this year.  Here are the results:
Most Bird Species - Latilongers, 158 species  (John Parker, Robin Wolcott, Ed Harper, Nate Kohler)
Most Money Raised (by individual) - Evelyn Acton  ($950)
Most Pledges Collected - Evelyn Acton  (27 pledges)
Sacajawea Audubon Award (most Flickers) - Wingnuts, 16 flickers  (Paulette Epple, Erika Epple, Deb Louttit, Travis Kidd)
Montana Audubon Award (most Magpies) - Team Bluebird, 169 magpies (Lou Ann Harris, Janne Hayward, Diane Gresham, Jan Jorgensen)
Best Bird - Latilongers, Lark Bunting
Sitting Duck Award - Lazulis  (Carolyn Hopper, Lesli Eddington, Dave Milne, Jinnie Milne)
Most Species in an IBA - Oblivious Sage Hens & Two Strutters, 36 species
Mentor Award - Lou Ann Harris
Carbon Neutral Award - Paradise Peregrines (Peter Norlander, Lee Harry)
A big THANK YOU to our sponsors and also local businesses and individuals who provided prizes!
Holcim, Town & Country Foods, Ted's Montana Grill, Bridger Eyecare, Eagle Optics, Country Bookshelf, Bridger Brewing, Lou Ann Harris, Loreene Reid, Montana Audubon