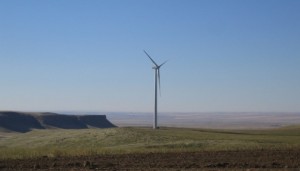 Where the Wind Blows – Wind Energy in Montana: Impacts on Birds and Other Wildlife 
Join us November 12th for an informational talk on wind energy by Montana Audubon's Janet Ellis.  As the threat of global warming looms ever larger, alternative energy sources like wind power become increasingly essential to meeting our country's energy demands. Montana ranks as one of the best places in the United States to build new wind farms. A few large-scale wind farms have already been built - and many new projects are slated for construction across the state. This development must be managed responsibly, because poorly-sited wind farms can cause significant impacts to birds, wildlife, and habitat. Learn what Audubon's concerns are on this important issue.
Janet Ellis, Montana Audubon's Program Director, has lobbied for Montana Audubon since 1983, and was hired to staff its office on a year-round basis when it opened in 1989. Her work focuses on protecting wildlife and wildlife habitat through public policy, with an emphasis on land use planning, stream setbacks, wind energy, and more. She has received several awards for her work, including the Conservationist of the Year Award from Montana Audubon, the Montana Wildlife Federation, and the Montana Environmental Information Center; and Special Achievement Awards from the Montana Dept. of Fish, Wildlife & Parks.
The Sacajawea Audubon Society meets the second Monday of the month (September through May) at 7:00 p.m., at the Hope Lutheran Church, 2152 W. Graf Street (off of South 19th) in Bozeman. We invite the public to attend our meetings and participate in our field trips, listed here on the chapter's website.