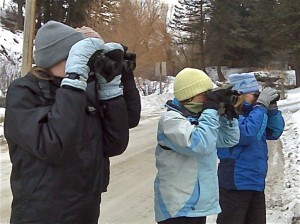 Come join the fun in one of our area's Christmas Bird Counts.  The Christmas counts, started in 1900, are an opportunity for beginning and expert birders to get together and enjoy this holiday tradition.
Ennis -  Wednesday,  December 14th
Compiler:   Robin Wolcott   582-0070
Meet at Yesterdays Café in the Ennis Pharmacy, Ennis
at 7:30 AM
Bozeman -  Saturday, December 17th
Compiler:  John Parker  586-5863
Meet at Perkins Restaurant,  2505 West Main, Bozeman
between 7:00-7:30AM
West Yellowstone -  Sunday,  December 18th
Compiler:  John Heinie (w) 646-7001 (h) (406)640-0124
Meet at the Grizzly and Wolf Discovery Center
West Yellowstone at 8:30 AM
Livingston -   Sunday, December 18th  (NEW MEETING LOCATION)
Compiler:  Sally MacDonald 222-5752 or 223-9167
Meet at the Northern Pacific Beanery at 108 W. Park in
Livingston between 7:00-7:30 AM,
smacbirder@msn.com
Three Forks -  Monday,  December 26th
Compiler:  Dennis Flath 406-539-1145
Meet at Bair's Truck Stop (Flying J at the
South side of the Belgrade Interchange)
at 7:00 AM
For more information, contact the count compilers. Please Contact the area compiler before the count, as this will give them the opportunity to plan and organize the count before the count day.  There is a $5.00 (kids are free) participation fee.  This money is sent to the National Audubon Society to pay for compiling and publishing the results of all of the Christmas Bird Counts.