Ennis Christmas Bird Count Smashes Previous Record
On Wednesday Dec 14, 2011 twenty-six intrepid souls gathered at Yesterday's Cafe prior to scouring the countryside for the  Ennis CBC.  The participants came from Ennis, Stevensville, Helena, Livingston, Deer Lodge, Sacramento and Bozeman.  The Ennis CBC was established in 1958 by Dr P. D. Skaar and, as luck would have it, his son Don was on hand to contribute to this year's stunning new record high count of 73 species.  Ed Harper was around way back in 1977 when an earlier record of 55 species was set and was also on hand for last year's new high count of 61.
Among the celebrated highlights of the count were Northern Goshawk, Ferruginous Hawk, Virginia Rail, Northern Pygmy Owl, American Three-toed Woodpecker (2), Marsh Wren, Gray Catbird, Western Meadowlark and Gray-crowned Rosy-Finch.  In addition, a Blue Jay and 6 Evening Grosbeaks were seen today for count week.  But the bird of the count was certainly the Barn Owl that Ed Harper observed and photographed.  Clearly the CBC gods were smiling on Ennis on this December 14, 2011, the first day of the Christmas Bird Count season.  To read a recent article about the Ennis count in The Madisonian newspaper go here:  http://www.madisoniannews.com/2011/12/new-record-set-for-ennis-christmas-bird-count/
Warm Temps and New Species Highlight Bozeman CBC
The Bozeman CBC was held Saturday December 17th, with near ideal conditions, sunny skies, calm, with highs in the forties. Thirty-nine participants from around Gallatin Valley covered 13 different routes within the Bozeman count circle.   A total of 59 species were seen this year, including three new species:  Snow Goose (8), Ross' Goose and Hermit Thrush.  Other unusual birds for the Bozeman count included Gadwall, American Wigeon, American Coot, Marsh Wren (only the second time on the count, with 4 wrens seen at two locations) and White-throated Sparrow. Also, there were lots of Bohemian Waxwings, and record numbers of Cedar Waxwings.  Because of an extra effort to cover the foothills of Gallatin Valley, there were new high counts of Red-breasted Nuthatch, Mountain Chickadee and Townsend's Solitaire.
An extra special "thank you" goes out to Jean Perkins, who has hosted our after count gathering for many years.  She greets each person at the front door with a mug of hot cider and a smile, and of course, we all look forward to her delicious cookies!  Thank you, Jean!
30TH ANNUAL THREE FORKS CBC
The thirtieth Three Forks CBC took place on December 26.  Weather was pleasant and mild, with temperatures ranging from 25-39 degrees.  The wind came up later in the day, but probably did not exceed 10 mph.
Twenty observers participated, and recorded 6,568 individual birds of 59 species, not a record, but still a very impressive count.
Three species new to the Three Forks count were recorded, including one Sora, one American Dipper, and 3 Chipping Sparrows.  A high count was recorded for 8 species, including Trumpeter Swan (30), Canada Goose (1971), Sharp-shinned Hawk (4),Prairie Falcon (6), Eurasian Collared Dove (273), Black-billed Magpie (343), Canyon Wren (2), and Lapland Longspur (200).
Following the count, the group gathered at Joan Ryshavy's house to consolidate totals from the various teams.  Joan hosted the group for chili and crackers.  Thanks, Joan!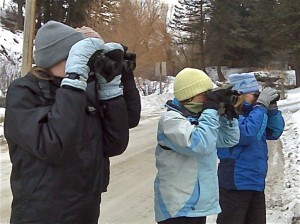 Come join the fun in one of our area's Christmas Bird Counts.  The Christmas counts, started in 1900, are an opportunity for beginning and expert birders to get together and enjoy this holiday tradition.
Ennis -  Wednesday,  December 14th
Compiler:   Robin Wolcott   582-0070
Meet at Yesterdays Café in the Ennis Pharmacy, Ennis
at 7:30 AM
Bozeman -  Saturday, December 17th
Compiler:  John Parker  586-5863
Meet at Perkins Restaurant,  2505 West Main, Bozeman
between 7:00-7:30AM
West Yellowstone -  Sunday,  December 18th
Compiler:  John Heinie (w) 646-7001 (h) (406)640-0124
Meet at the Grizzly and Wolf Discovery Center
West Yellowstone at 8:30 AM
Livingston -   Sunday, December 18th  (NEW MEETING LOCATION)
Compiler:  Sally MacDonald 222-5752 or 223-9167
Meet at the Northern Pacific Beanery at 108 W. Park in
Livingston between 7:00-7:30 AM,
smacbirder@msn.com
Three Forks -  Monday,  December 26th
Compiler:  Dennis Flath 406-539-1145
Meet at Bair's Truck Stop (Flying J at the
South side of the Belgrade Interchange)
at 7:00 AM
For more information, contact the count compilers. Please Contact the area compiler before the count, as this will give them the opportunity to plan and organize the count before the count day.  There is a $5.00 (kids are free) participation fee.  This money is sent to the National Audubon Society to pay for compiling and publishing the results of all of the Christmas Bird Counts.
Penelope Pierce, Executive Director of the Gallatin Valley Land Trust (GVLT), will present a program on Conservation in the Gallatin Valley at the Sacajawea Audubon Society's meeting on December 12. She will cover conservation accomplishments to date, including recent work performed at the trailhead and in the watershed at Sourdough Canyon, and opportunities for the future. GVLT is enthusiastic about collaborative efforts to maintain or enhance the quality of land, water and wildlife in the region. This program is an opportunity to learn about habitat protection and environmental stewardship for community-based conservation efforts.
Founded in 1990, Gallatin Valley Land Trust has had a role in preserving more than 56 square miles of land in the valley and neighboring communities. Using voluntary conservation easements, GVLT works with landowners and other interested parties to arrange conservation agreements. All efforts are collaborative, and all resulting easements are voluntary.  Penelope Pierce became executive director of the GVLT in the fall of 2010. Previously she had been the U.S. Regional Director for the Yellowstone to Yukon Conservation Initiative, and before that an land-use attorney in Seattle. Currently, she serves on the Board of Directors of the Western Environmental Law Center.
The Sacajawea Audubon Society meets the second Monday of the month at 7:00 p.m., at the Hope Lutheran Church, 2152 W. Graf Street (off of South 19th), Bozeman. Audubon invites the public to attend its meetings and participate in its field trips, listed on the chapter's website at www.sacajaweaaudubon.org/.