The next Madison Valley IBA bird survey will be on Saturday, October 29th.  We will meet again at the Ennis Pharmacy café at 7:15 a.m. for those who want to have breakfast and we will head out for the survey at 8:00 am.   The count lasts usually until noon.  For more information or to sign up, please contact Paulette Epple, by phone at 406-580-6186 or by email at bigskyepplesATmsn.com
Ennis Lake Waterfowl Field Trip Report
Saturday, October 22nd
Twenty-one people took advantage of the glorious fall day for the Ennis Lake field trip on October 22nd.  It was a congenial group that enjoyed the beautiful day, and three members of the group got life birds on this trip.
Perhaps the most stunning sight of the day was right when we arrived at the lake.  Over 200 Tundra Swans flew in several V's north to south over the lake, with the Madison range as a backdrop.  At Meadow Lake fishing access, we had excellent views of several species of ducks and gulls, including 2 adult and 1 immature Herring Gulls.
Townsend's Solitaires were continuously calling and singing as the group spent the next couple of hours around the entrance to Bear Trap Canyon.  At the bridge three Clark's Nutcrackers flew over, giving one group member a life bird.  There was a Double-crested Cormorant, several Common Loons, Belted Kingfisher, and Horned Grebes.  Bald Eagles wheeled overhead, giving aerobatic displays for the group.
We then went to the southeast corner of the lake. A large number of ducks, including Lesser Scaup, Ring-necked Ducks, Canvasbacks, Redheads, and Ruddy Ducks, were close in and easy to observe with the seven spotting scopes brought by members of the group.  Two people got good looks at their life bird for the day, which was a Barrow's Goldeneye.  After spending about two hours here, the group reluctantly left to go to Clute's Landing for a brief look.  After seeing 30 American White Pelicans fly over the lake, and counting over 300 Western Grebe, they then left to go back to Bozeman.
John Parker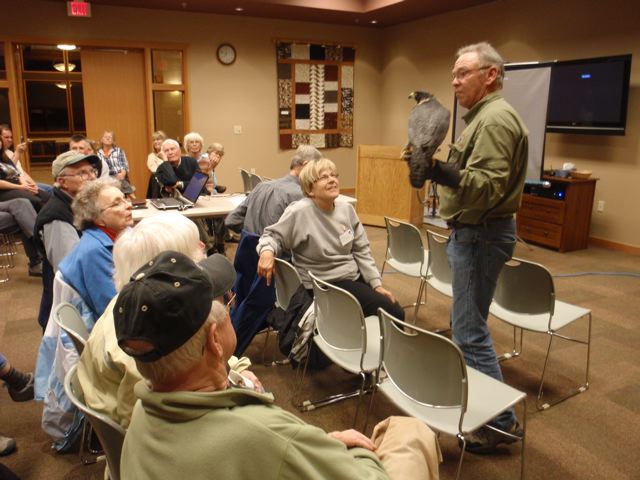 Jay Sumner, Executive Director of the Montana Peregrine Institute, brought a peregrine to the October meeting of Sacajawea Audubon.