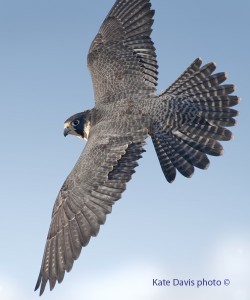 Jay Sumner, Executive Director of the Montana Peregrine Institute, will speak about Peregrine Falcons in Montana, at the Sacajawea Audubon Society's monthly meeting on Monday October 10th. The Montana Peregrine Institute studies peregrine and other cliff-nesting raptors in Montana, bordering states, and nesting cliffs in the Sonoran Desert of Mexico. Not a single nesting peregrine could be found in Montana in 1980. Reintroduction of the species to the state began in 1981. From 1999 through 2010, naturalists found 121 active peregrine territories. The continuing science behind this recovery is the subject of Sumner's presentation.
Working through the Montana Peregrine Institute and with various organizations, Jay Sumner has been surveying the peregrine population in the state since 1999. He is currently coordinating Montana Peregrine-Watch to determine the percent occupancy of the 121 territories in the state. Based in Arlee, Sumner directs the Montana Peregrine Institute; the website is www.montanaperegrine.org/.
The Sacajawea Audubon Society meets the second Monday of the month at 7:00 p.m., at the Hope Lutheran Church, 2152 W. Graf Street (off of South 19th), Bozeman. Audubon invites the public to attend its meetings and participate in its field trips.