Join Sacajawea Audubon members working this summer to eradicate burdock from some of our favorite trails.  This nasty introduced plant has Velcro-like seed heads that entrap songbirds, slowly causing their deaths .  You may know burdock from brushing against it and getting the burs caught in your hair, your clothes, or your dog's fur.  Lucky for us this plant is a biennial and so it is possible to gain control of it without the use of chemicals.  If we can keep a stand of burdock from setting seed by clipping off the seed heads early, it will eventually die out.
Audubon volunteers will be leading work groups to clip the seed heads throughout the month of August and WE NEED HELP!  Join us if you can at any of these dates and locations:
July 28        The "M" Trailhead
July 30        East Gallatin Recreation Area (meet at the beach)
August 3     Drinking Horse Mountain Trailhead
August 10   Story Mill Community Park  (park along Story Mill Road just south of the Story Mill)
August 13   Sypes Canyon Trailhead
August 16   Gallagator Trail (meet on Garfield Street where it intersects the Gallagator Trail)
August 25   Sourdough Trail in Bozeman **Evening Meeting time: 6 pm ** (meet at GardnerPark trailhead on Gardner Park Drive)
We will meet each morning at 7:30 am. (EXCEPT Sourdough Trail which is a 6 pm evening event!) Bring pruning clippers if you have them and wear gloves, long sleeves and long pants, all of fabrics that burs won't adhere to.  Plan to work for an hour or two.  Whatever time you can afford.  With your help, we will "Knock out Burdock"!
Contact Paulette Epple at  bigskyepples@msn.com    or   580-6186  for more information. Or contact Janne Hayward at 587-6124 to help her remove burdock from other smaller sites, dates negotiable.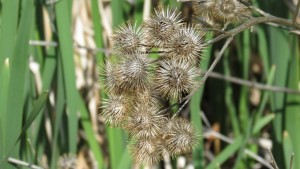 BIRDATHON AWARDS PARTY
The Sacajawea Audubon Birdathon awards party was held June 30th at East Gallatin Recreation Area, and a grand time was had by all!    The Birdathon winners are as follows:
CARBON FOOTPRINT AWARD (least miles driven) - The Paradise Peregrines (Peter Norlander, George Kelly): 75 miles driven, 5 miles walked
ROOKIE AWARD -  Micki MacGregor, The Oblivious Sage Hens
MENTOR AWARD - Lou Ann Harris
MOST SPECIES SEEN IN AN IBA (Important Bird Area) - The Oblivious Sage Hens (Loreene Reid, Sharon Hanton, Micki MacGregor) with 99 species at Red Rock Lakes
MOST PLEDGES BY A TEAM -  The Lonesome Doves with 23 pledges
MOST FLICKERS SEEN - The Oblivious Sage Hens with 23
MOST MAGPIES SEEN - The Latilongers with 235
BEST BIRD AWARD - The Lonesome Doves (Lou Ann Harris, Diane Gresham, Teri Sinopoli, Karen Ehlert) with a Northern Parula
MOST SPECIES - The Latilongers (John Parker, Robin Wolcott, Andrew Guttenberg, Ed Harper) with 143
MOST $$ RAISED BY A TEAM - The Lonesome Doves with $900
MOST $$ RAISED BY AN INDIVIDUAL - Teri Sinopoli with $175
Thank you to the generosity of our business sponsors, who really helped make this a special and fun event:
Bridger Feeds
Elle's Bakery
Outside Bozeman
Rocky Creek Farms
Wine Gallery
Also a big  "Thank You" to Steve Hoffman of Montana Audubon for deciding a winner on several of the awards.